Periodically reports from this page are removed and added to the 'Archives'. The archives are stored in a password protected area. See 'drop down' page under the 'Internal Club News' heading listed in the above menu.
…………………………………………………………………………………………………………………………..

CROQUET CARNIVAL COMES TO TOWN – The marquee comes out and there is an air of anticipation similar to the circus coming to town. Not quite, but for the division 1 pennants competition spread over three days and shared with Tempe, there were ample artistes from eight different clubs on display, very skilfull  with the ball, sharing the lawns with our ever present magpies clowning around to amuse (and annoy) the larger than usual audience. The new playing arena had competitors searching for appropriate accolades but tending to settle on "the best lawn in Sydney". Spectators were treated to more than 200 games between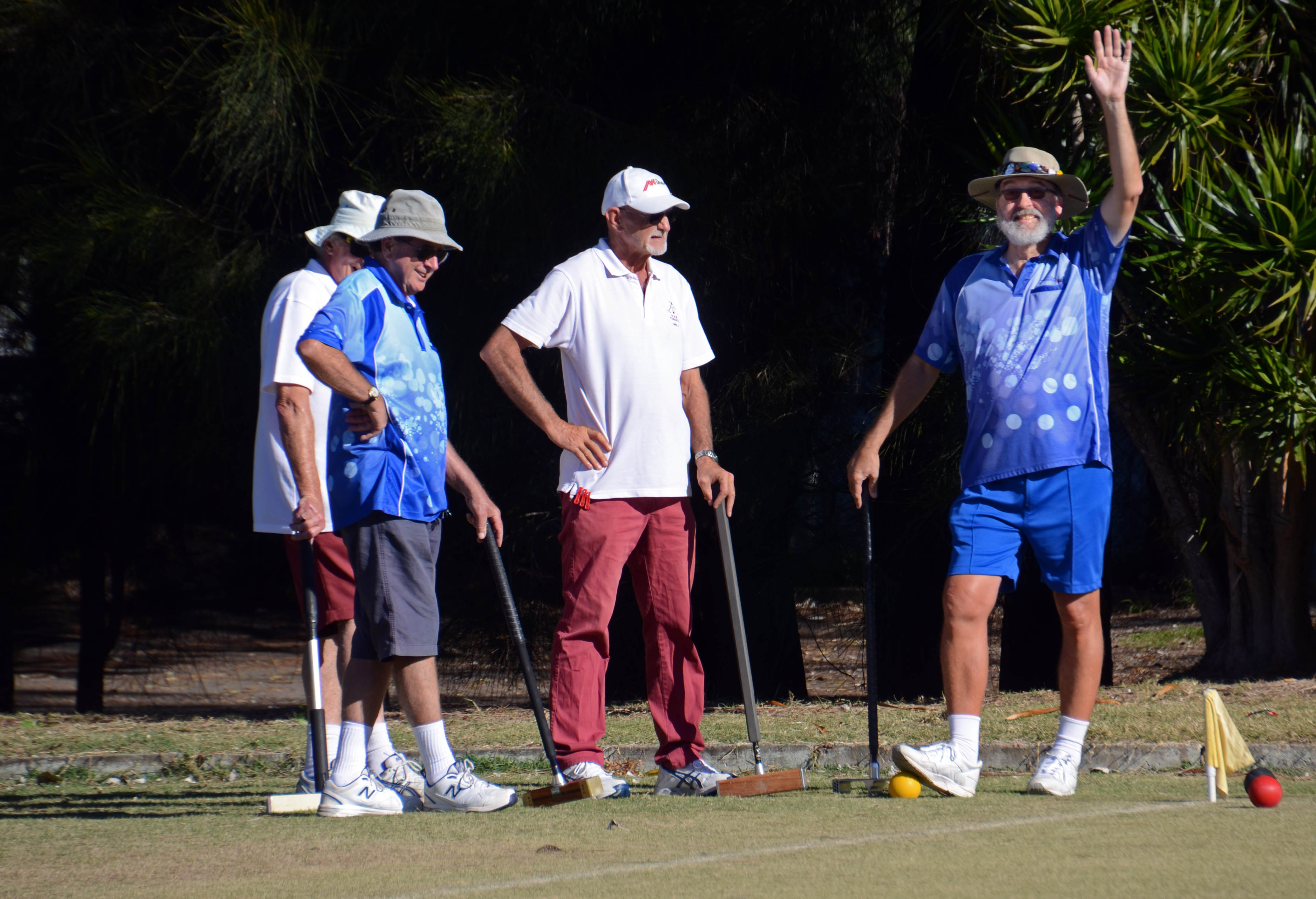 clubs from as far away as Maitland in the north to Canberra in the south, some star studded with internationals and recent participants in the World Championships. Playing alone, was a feat achieved by several of the Sutherland troupe having barely stepped off the plane after chalking up more than forty games apiece at "the Australian". But play they did fighting through the dusk into darkness very late on day three against Killara, their last match on home soil. To finish equal third in matches won against some tough opposition was no mean feat and our bevy of the best did Sutho proud. Congratulations to Maitland who took top spot. Thanks go to John B who not only captained but managed the Sutherland end of the event and to his helpers with the catering and grounds crew. Along with the  team you guys presented Sutherland to the croquet fraternity as a welcoming friendly mob and made it all good fun. Well done.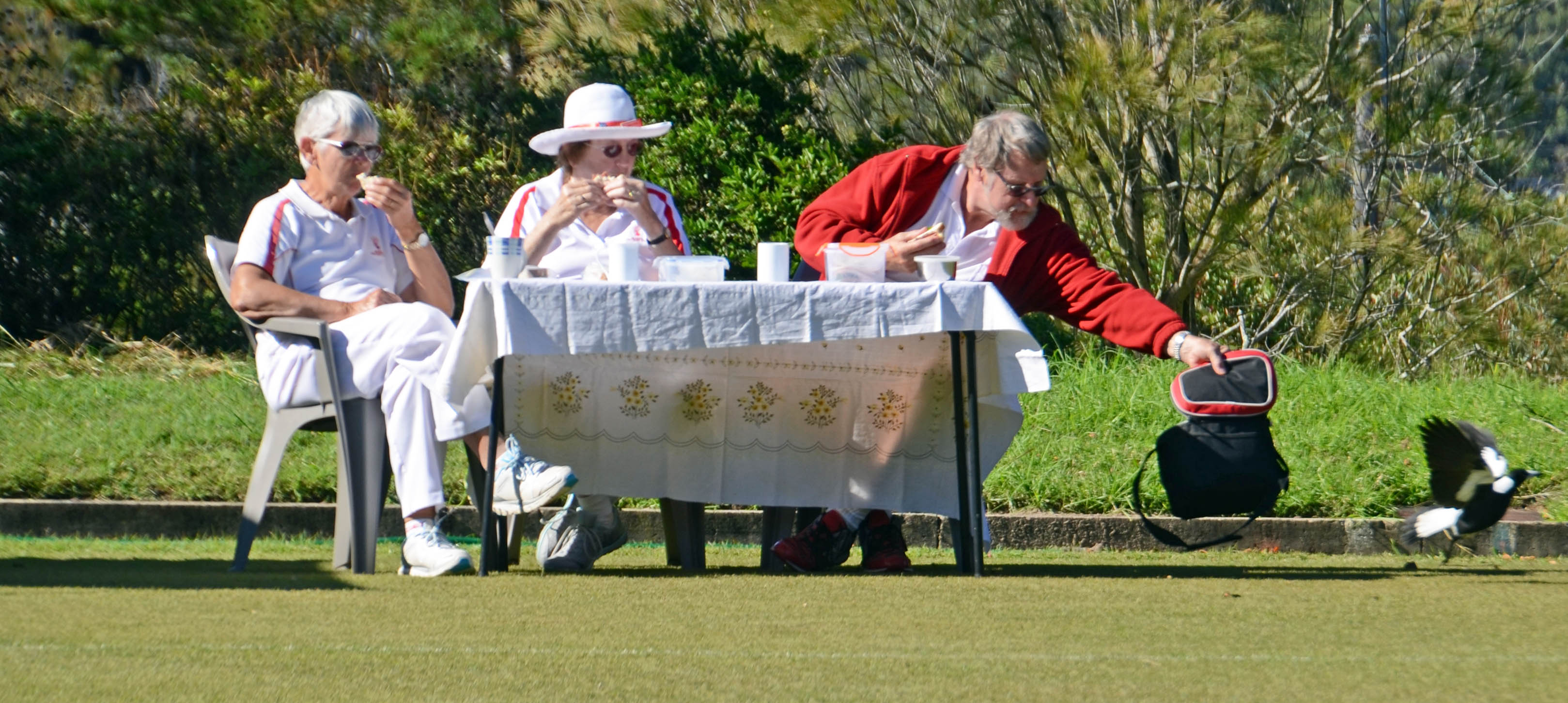 ………………………………………………………………………………………………………………………………..
POINTY END OF THE PENNANTS – Its nearly all done and dusted for another year but prepare yourselves for the great end to the season as our division 3 team head to Mackey Park at Tempe to fight their ways through the finals on Thursday 15 June. The ground is opposite Tempe Railway Station and games start around 8.00am through to about 4.00pm. Spectators are very welcome. Good luck to captain Margery and her seasoned squad.
………………………………………………………………………………………………………………………………..
Sutherland 4 in NSW Selector's 8 – Sutherland dominated this competition providing 50% of the field. After 3 days play at Tempe last weekend David topped the block winning all bar one match which he lost to Ron. Ron and Ros both lost to Tony and were among a group that came equal second on matches won…….Keeping it all in the family so to speak. Just a trial run really, they'll all be tipping out again in a couple of weeks having entered the NSW GC doubles.
…………………………………………………………………………………………………………………………..
Two new local fixtures about to be launched – Ricochet is to be played on Monday mornings occupying two lawns and a new GC singles competition will take the field on the second Saturday of each month commencing from 10 June.
………………………………………………………………………………………………………………………………..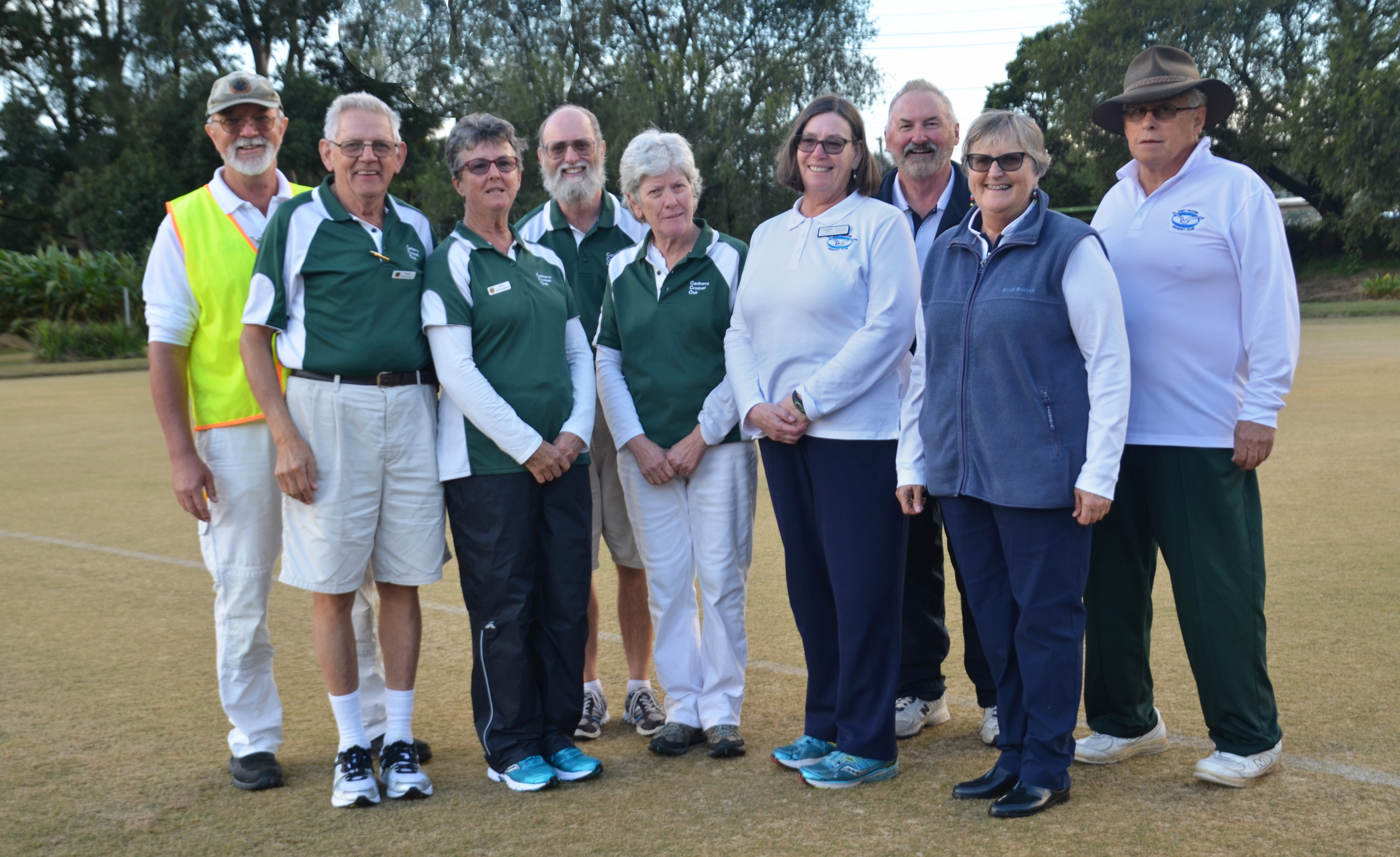 Our Neighbours Port Hacking Runners Up in the Div 2 Pennants Final – Having won the Sydney South Region, in which Sutherland came second, Port Hacking fought their way into a final against Canberra, braving not the best of days at Tempe. Well done guys we look forward to another stoush next year.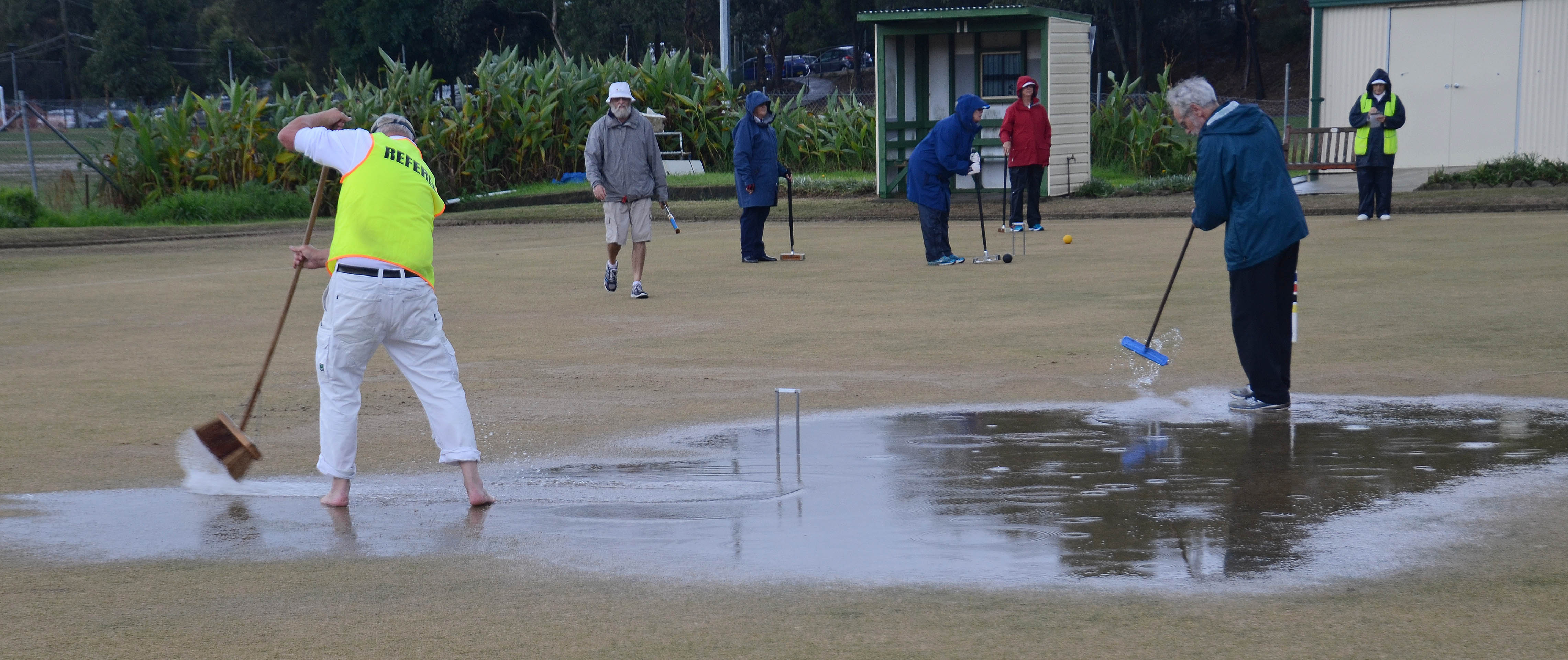 ………………………………………………………………………………………………………………………………..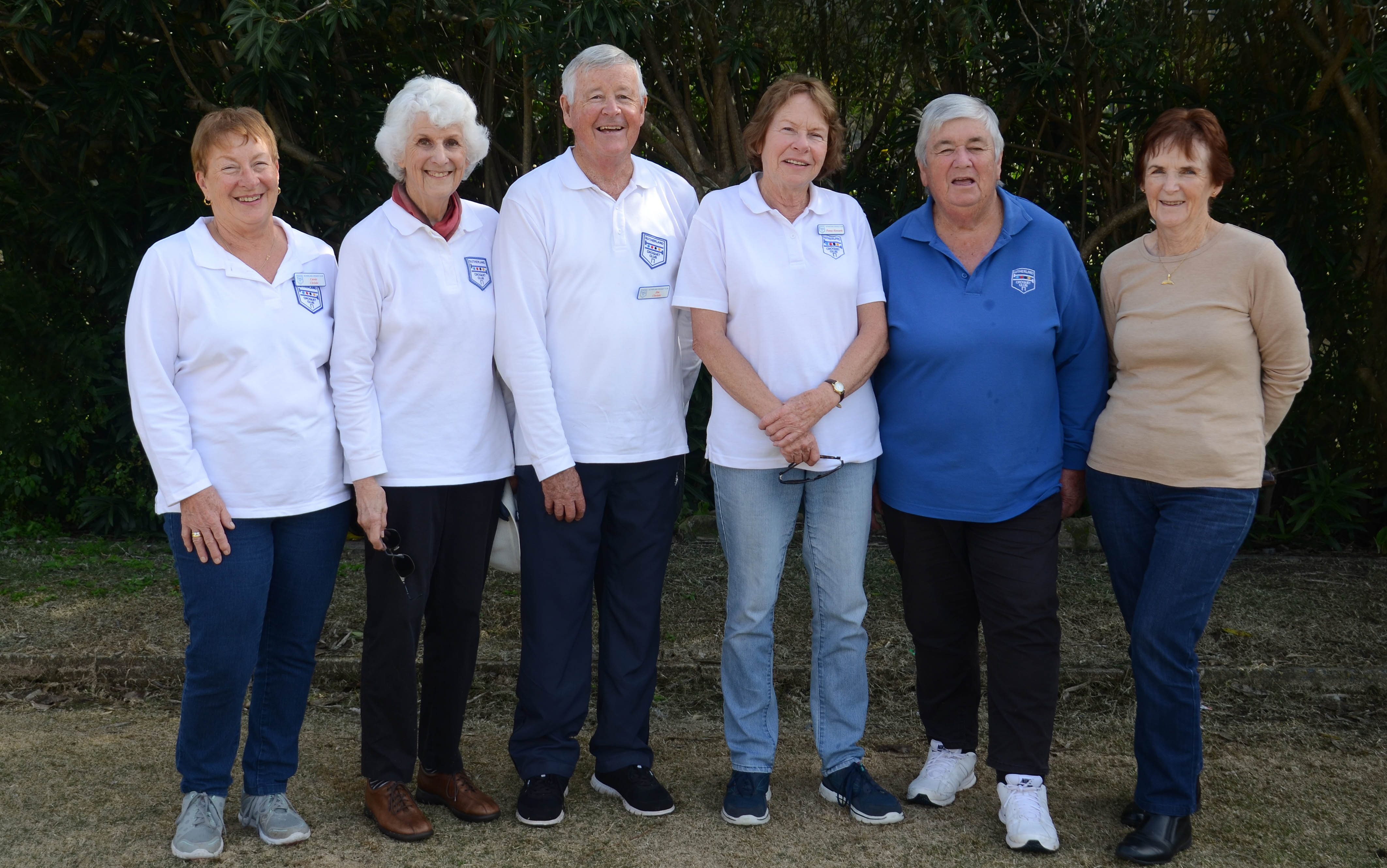 Sutherland Reaches the Final at Tempe – Having only lost one match during the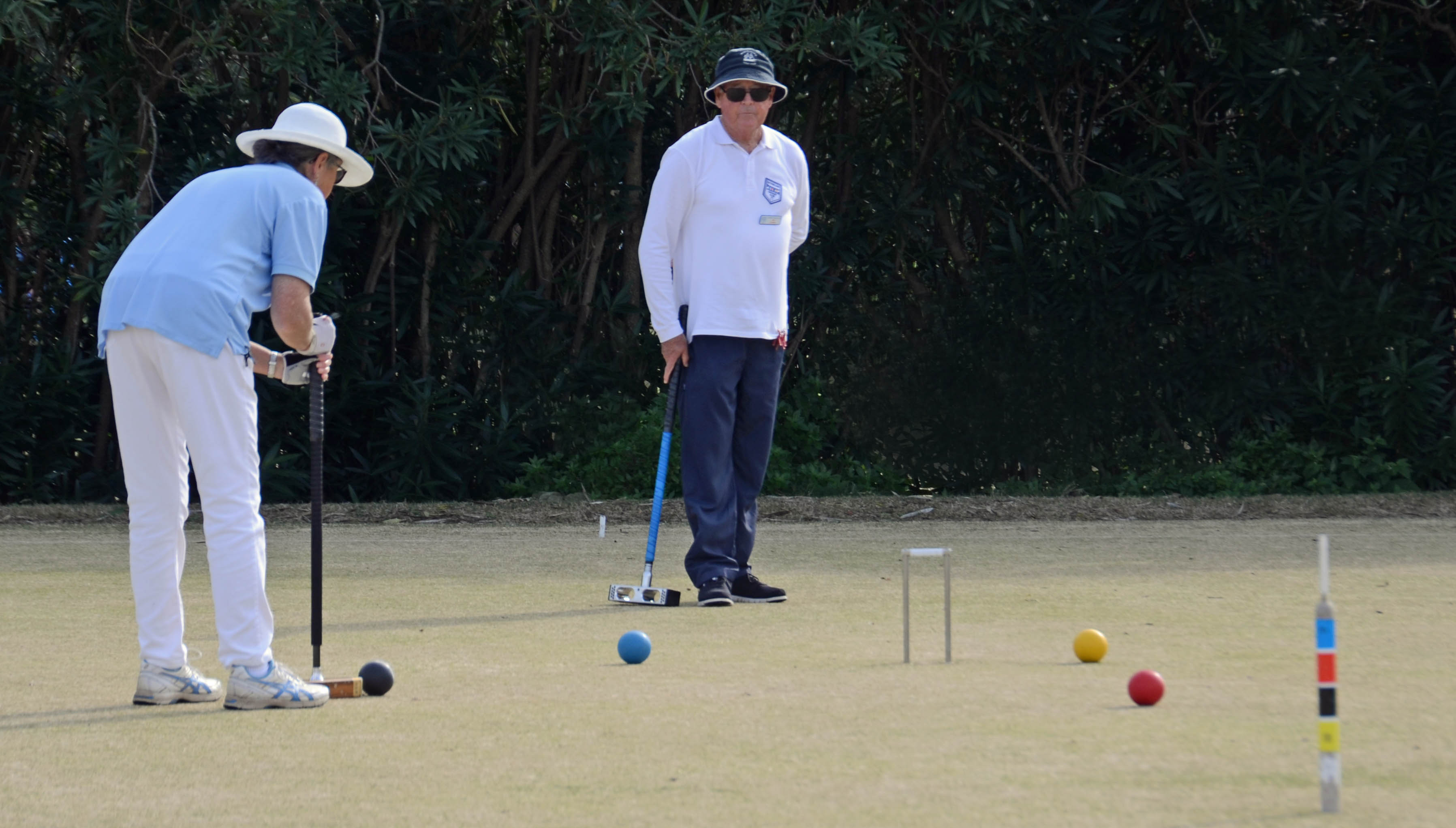 Division 3 Pennant's series, Sutherland fought off Nowra in a semi to win a place against Manly for the last match of the series. Unfortunately the final was to be their second defeat, but  there were still plenty of smiles  around and the chances are this battle hardened team will be back again for more next year. Well done guys!!
………………………………………………………………………………………………………………………………..
BIG GUNS FIRING AT THE NSW GC DOUBLES COMP' – just that they weren't necessarily ours. Sutho nonetheless fielded around a third of the players with two and half pairs, the half (Tony (playing with Brenda from Mount Sugarloaf) being the best performed. Ron and Ros, John B and David and Tony had some interesting scraps among themselves to stay in the hunt.
………………………………………………………………………………………………………………………………..
SCHOOL FOR RULES – SUTHERLAND SITS UP AND TAKES NOTICE     – The classroom was full and students were keen to learn first hand from head honcho Bev Smith (CNSW Director of Refereeing) rather than trying to be convinced of wrongdoing by their mates on a Saturday morning. Bev's  presentation was most informative and she fielded no end of queries about various aspects of the game, touching on striking and not striking faults, off side rules and etiquette. With the extensive scenarios that can occur on the lawns an awful lot to learn and we can be appreciative of any player (like us) prepared to learn the intricacies of the game and adjudicate. Thank you Bev for travelling from Maitland and giving us your time and expertise and thank you Ros for organising the event.

After the classroom session players took to the lawn for a practical demonstration. A 'crush' no longer could be confused with a youthful infatuation and a new use was found for old fashioned carbon paper as an aid to expose serial double tappers.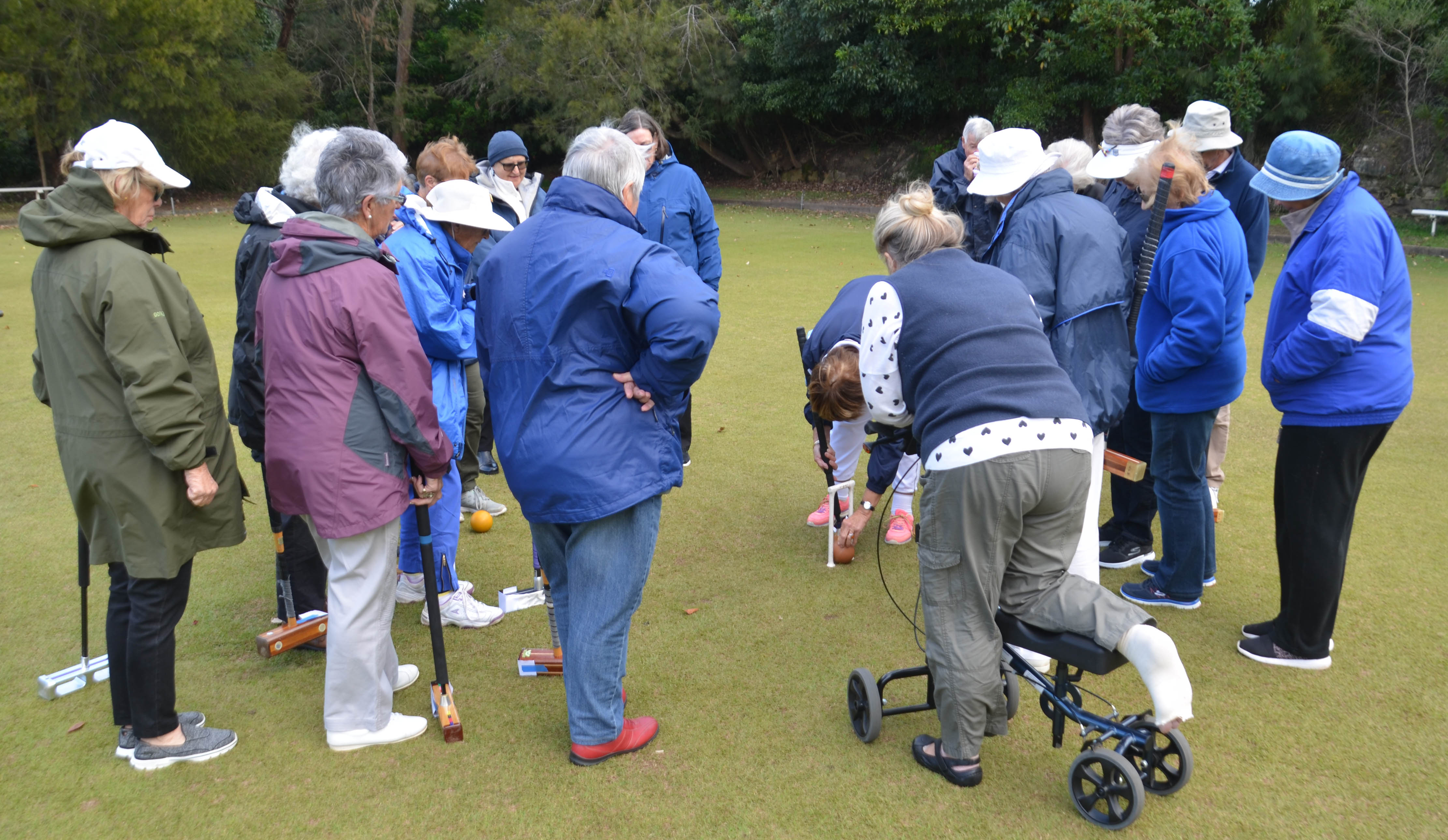 …………………………………………………………………………………………………………………………..
Roving Ron and Ros report from their croquet marathon in Southport:  Yes they are on holiday and what better way than to start with five days or so of croquet. Just about every way possible, ricochet (Ros came second …….. er-hmm, Ron humbly admits he came last – gee he's human after all). In golf singles they made their mark coming equal first and second in their blocks, but were beaten on countbacks and in golf doubles they finished half way through the field in their block.
Wow what now to do with their holiday? One thing they can do is celebrate the selection of Ros to the NSW women's team. Congratulations Ros, that is fabulous news, we wish you well and will be supporting you every inch of the way.
…………………………………………………………………………………………………………………………..
David goes for Bronze but misses out on third spot. An impressive red hot field of eight invited players assembled at Tempe each chilly morning last weekend to compete in the CNSW 'Bronze Medal' competition. After three days of stiff competition David finished fourth, following closely behind some other big guns, John Levick (1st) Per Freer (2nd) and David Hanbidge (3rd). Good one David.
…………………………………………………………………………………………………………………………..
CONCRETE AND BOYS BONDING – On Friday some of the lads gathered around the shed worksite and rediscovered muscles long thought dormant. An accumulation of
previously unknown skills were also revealed, Terry rightfully assuming the role of leading hand by putting the finishing  touches to the slab. Thanks also to John S who along with Terry waded through the 'mud' in his wellies, Andrew and John E on screed board and John C who put together the formwork.
…………………………………………………………………………………………………………………………..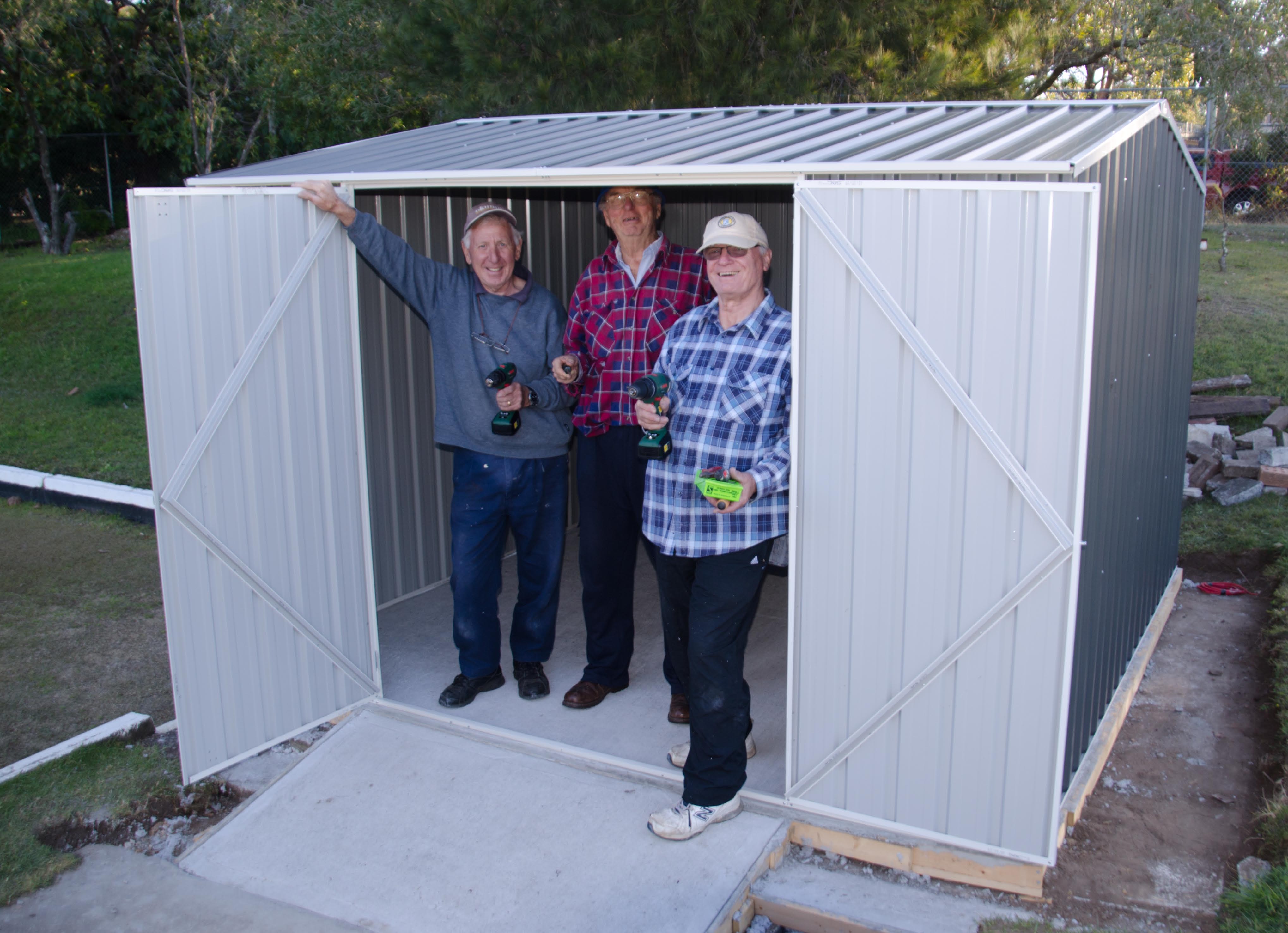 BOYS AND THEIR SHED – Snapsey, Eddesy and Kellyly (Colesy on camera) all proud builders of the new shed. (Won't be seen for dust if it falls down)
…………………………………………………………………………………………………………………………..
ANNUAL GENERAL MEETING. And few move out of those committee chairs. Whilst most of the faces remain the same, welcome Frances for taking over the secretary role and thanks Ros for your contribution in that position over the past twelve months. Much appreciation also to Margery who is stepping down from looking after the club's archives and reporting on our welfare. Fifteen years quite a haul.
…………………………………………………………………………………………………………………………..
2SSR- 99.7FM Community Radio Announces our 'Open Day' on 6 August and Gloria talks to a 'Mystery Guest' about the event (and croquet in general) during her Wednesday 'Mystery Guest' time slot. Many thanks to the 'Sound of the Shire', always good listening.
…………………………………………………………………………………………………………………………..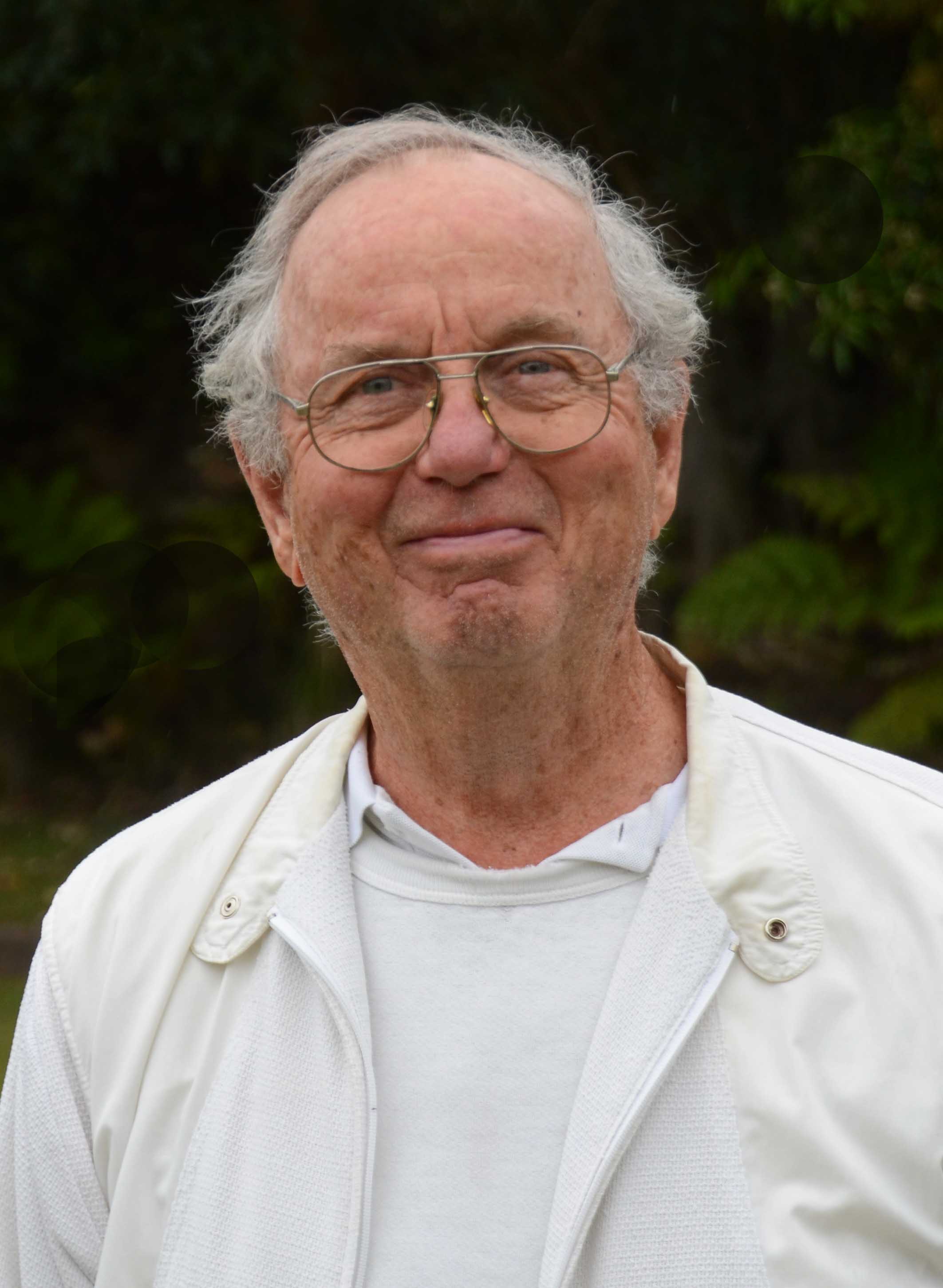 Good Luck to John, who comes out of the bush for the next three days and carries the Sutherland flag into the NSW AC Champion of Champions competition at Tempe (his other home). A good man indeed.
(Another familiar face will be there as our Gareth who we share with Marrickville will also be in the line-up, fresh back from another successful UK trip)
…………………………………………………………………………………………………………………………..
NSW Champion of Champions: Whilst our two heroes might not have finished at the top of the field, they remain 'our champions' and fought for the scraps in the 'plate'. Gareth playing for Marrickville on this occasion ended in third place with John fourth. Gareth now lines up in the NSW Selector's 1st Eight next weekend. We note he has Sutherland against his name this time. Go Gareth !!!!
…………………………………………………………………………………………………………………………..
OPEN DAY – 'NUMERO UNO' – Last Sunday was the first of our Open Days, inviting the public to savour a little Sutho hospitality and try their hand at our addictive sport. The weather perfectly complimented the setting and Sutherland effortlessly mustered a bevy of volunteers keen to share their enthusiasm for the game and be part of the community spirit of the club. Promotion of the event helped spread the word about our facilities and hopefully a number of our visitors on the day will take a further step toward considering membership. Whilst the occasion did not warrant a full club turnout so many folk happily contributed to the day making it quite special. Friendliness was in abundance, guidance was generously given and the catering and sausage sizzling was deliciously spot on…….. Sincere thanks to all – Open Day "numero uno" indeed.
…………………………………………………………………………………………………………………………..
Gareth Goes Global Again and Gets Another Gong in the Old Dart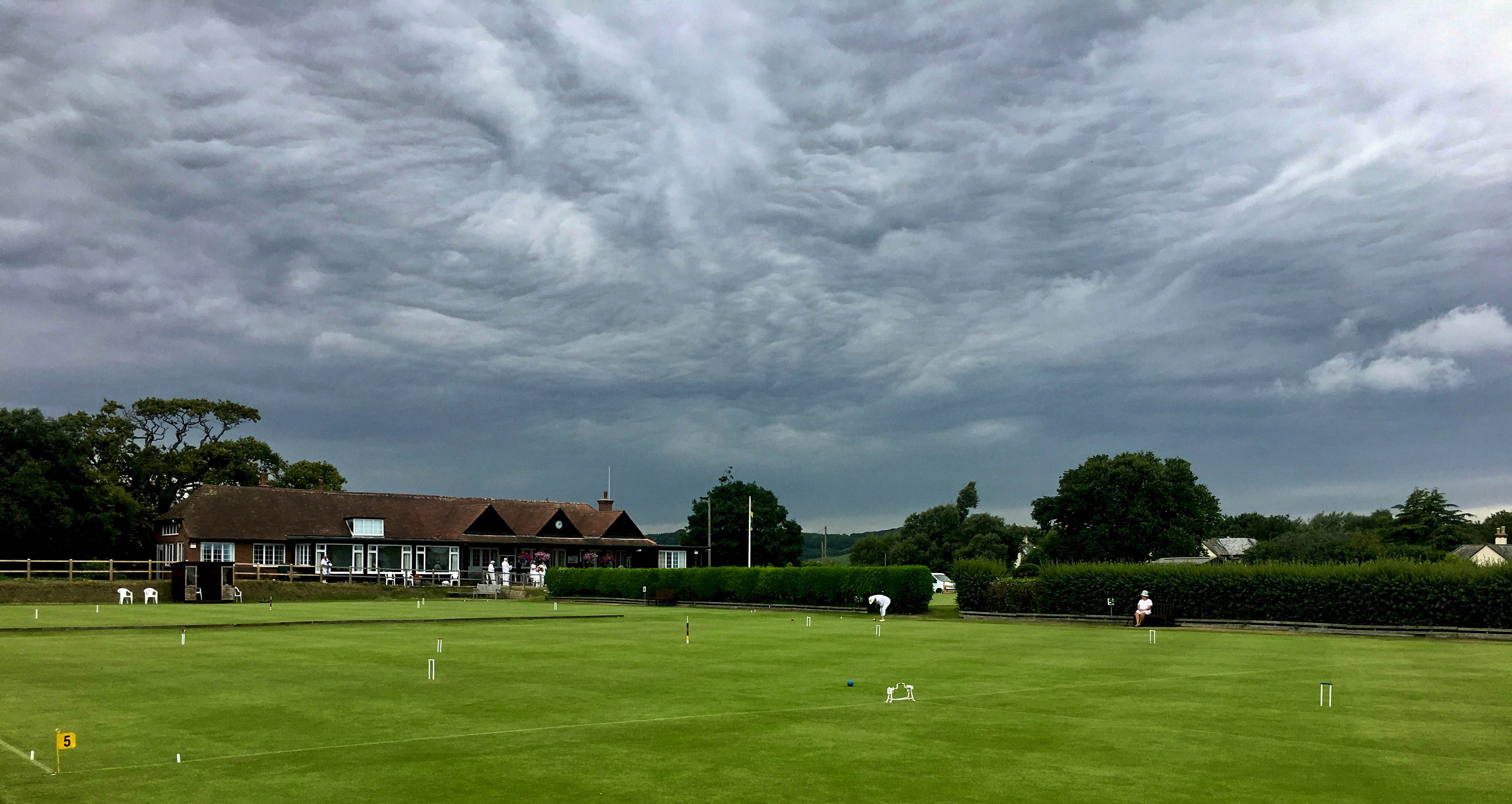 Having made his winning debut at the U.K  National Seniors Championship in 2016, Gareth flew back to defend his title last month and came away with another first. Attracting more than forty players including from Canada and  Australia the championship was played at Budleigh Salterton by the sea, sometimes under rather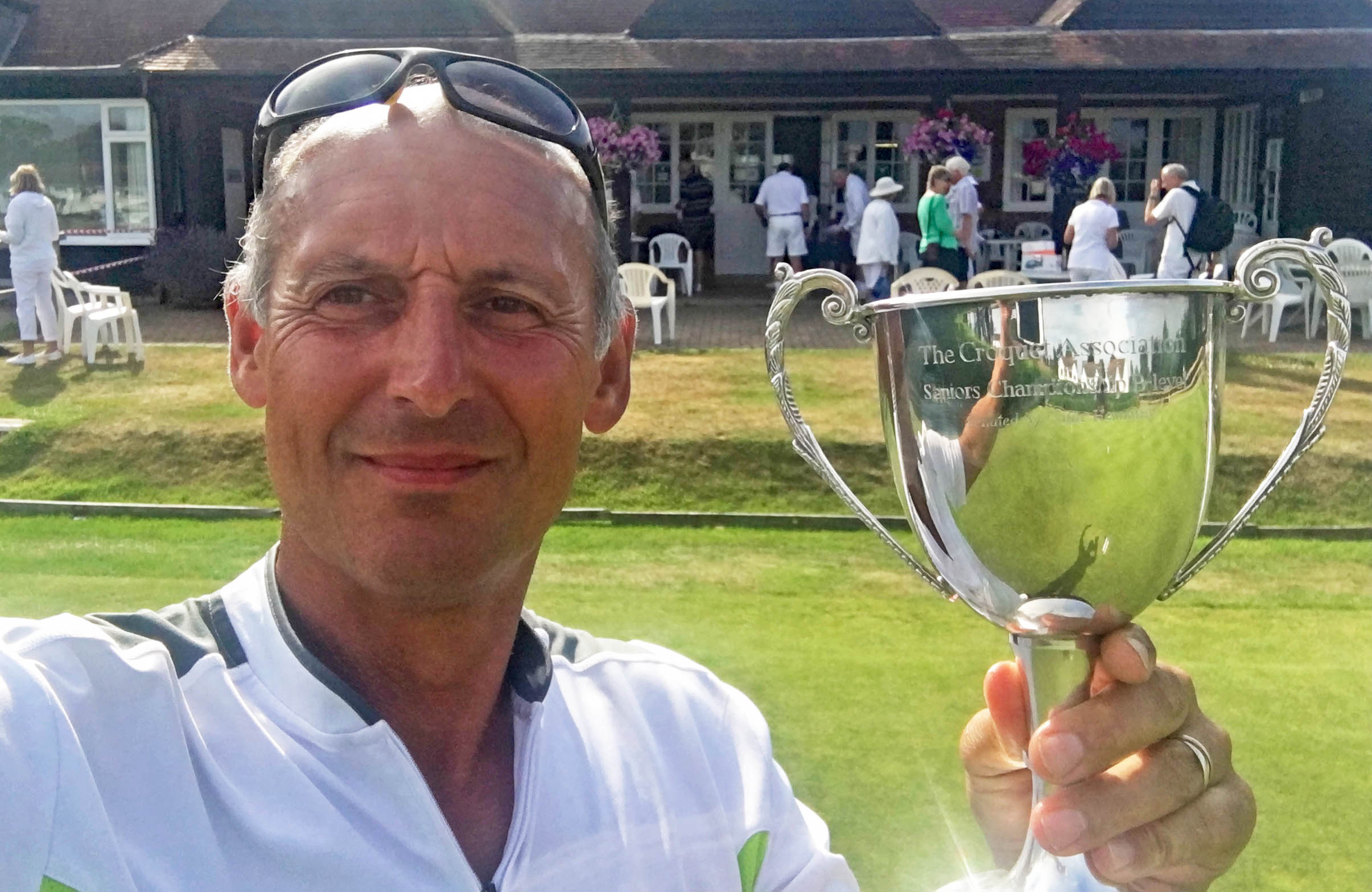 British skies. Playing in Block B Gareth tied with two other contenders but nudged ahead to win the competition on net points. His performance included not one, but two triple peels, for which he also won a Gold Merit Award and reduced his handicap to scratch. Well done Gareth 2018 awaits.
…………………………………………………………………………………………………………………………..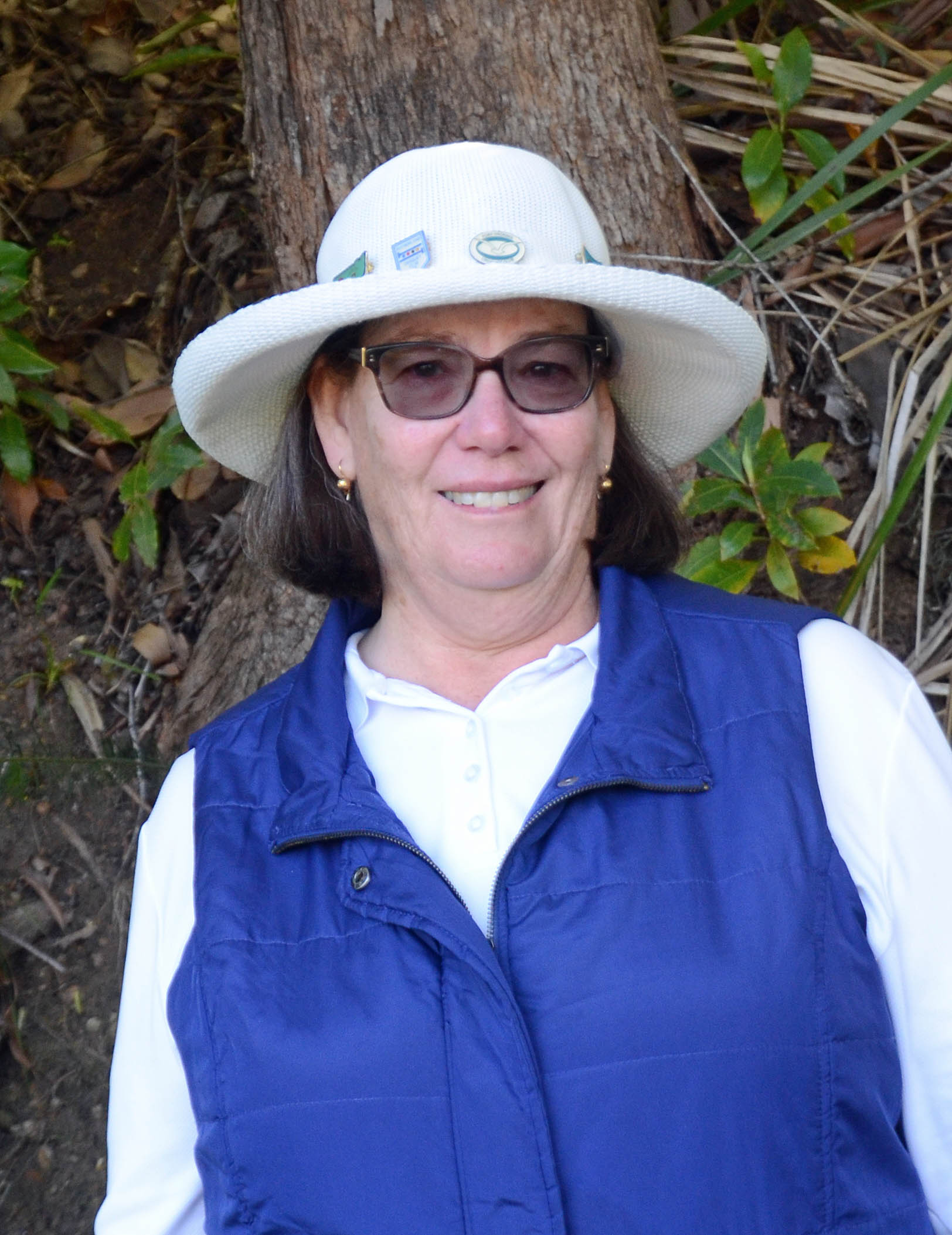 HIGH FIVES FOR LYNDA AND JIM – Winning five games each put Lynda and Jim on top of their respective 2nd and 3rd division groupings of this internal competition. Throughout the two events however there were 'swings and roundabouts' of results and several players experienced a bit of a bruising. Aileen also finished on five wins in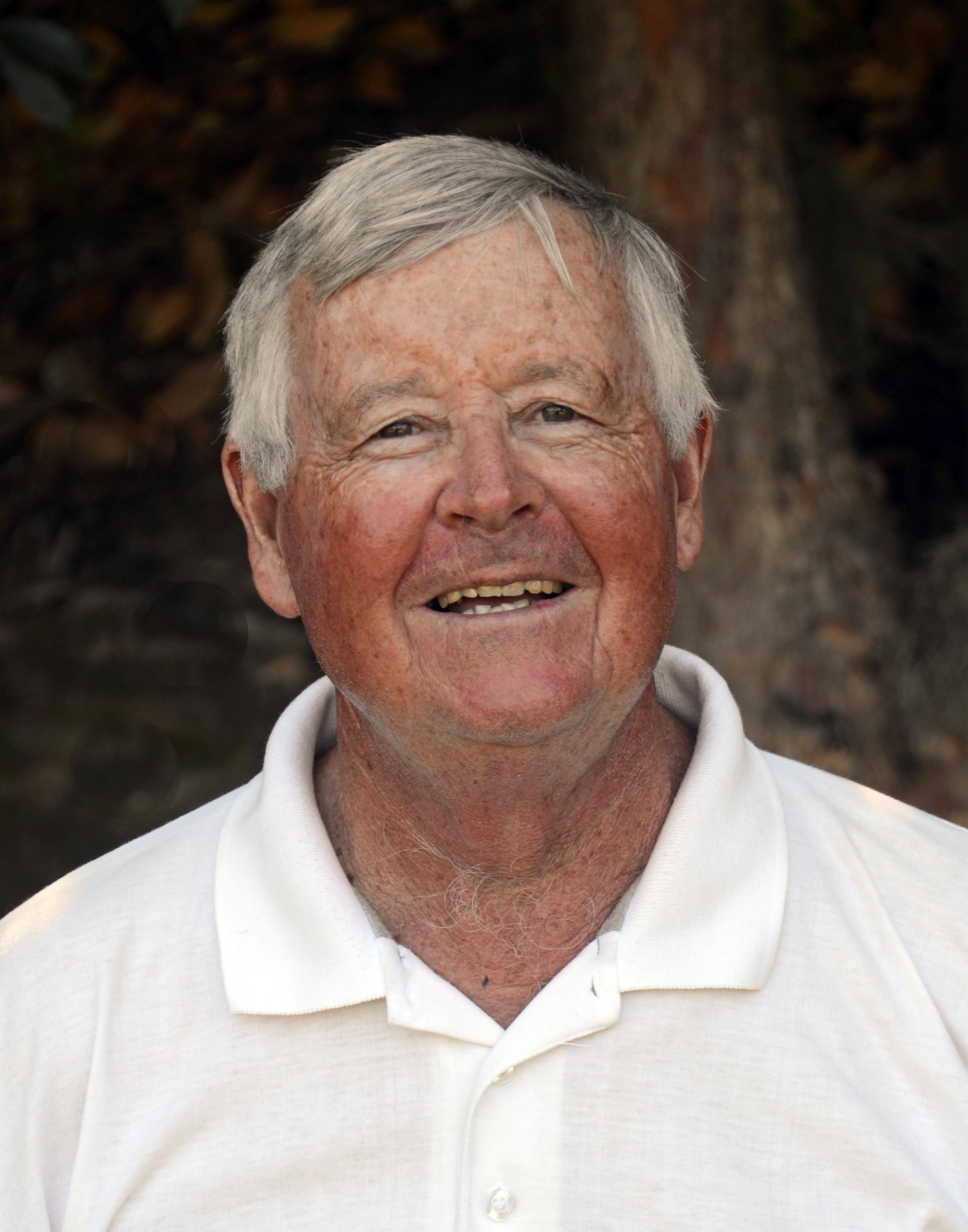 division three (ouch Jim) but was declared runner on hoop differential. Lynda by contrast enjoyed clear air in division two being one game ahead of her rivals. Three players finished on equal second with four wins, Deb, Paul and John C and with only a point or so separating this trio John was fortunate to have accrued enough points to scrape through as runner up..
…………………………………………………………………………………………………………………………..
ONE EYED SUPPORT FOR PLAYERS ON DECK AT NELSON BAY. Once again Sutherland has a fair sized crew heading off to battle, this time to compete in the Gold Brooch at Nelson Bay. A doubles event  the pairings are made up of division 1 and 2 players, captains and lieutenants  so to speak. Tony and Deb, David and Lorraine and Lynda (and Brenda) will be in the line up flying our colours. Go well guys, may you sail through.
…………………………………………………………………………………………………………………………..
JOUSTERS DRAWN TO SUTHERLAND'S GREENS. A new competition devised by Tony McArthur creator of the 'INTERCEPT' (and president of SCC) was played out on
Sutherland lawns for the past two Sundays. Known as 'THE JOUST' this intended annual event is open to players in the handicap range of 9 – 20 who have not previously won a competition. Uniquely the event allows for on field friendly advice for competitors warning them of any faults they may be likely commit in the course of play. Handicaps are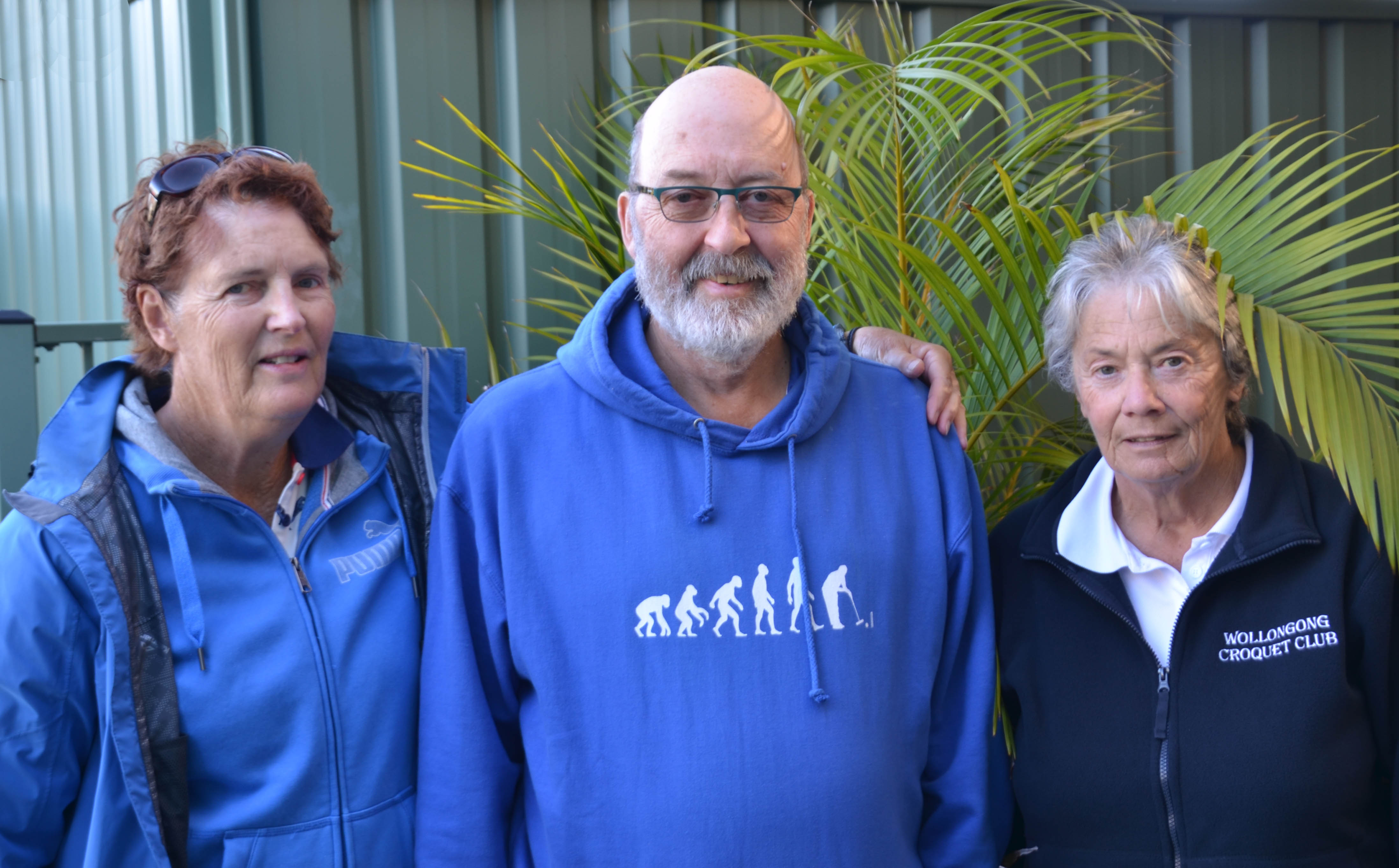 also carried by all players introducing them to the concept of 'extra turns'. This year's event drew competitors from Holroyd, Wollongong, Port Hacking and Sutherland each of whom played a single round against all opponents to determine a winner. And a friendly occasion it was too ending with thanks to Tony (and caterer Jen) for making it all possible. This year's winner was Roslyn (on right) from Wollongong who went through the competition undefeated. Sue (on left) from Sutherland was runner up.
…………………………………………………………………………………………………………………………..
Nelson Bay Gold Brooch.  Cold, windy and wet conditions on the first day might have seen the most hardy contestants heading for port, but croquet players (reputedly more akin to garden parties) tend to battle through most conditions and ultimately the sun shines again. Of the Sutho delegation Tony and Deb finished most favourably, fifth out of a field of a dozen pairs and distinguished themselves by beating everyone who ended up ahead of them.
…………………………………………………………………………………………………………………………..
BLOCK BUSTER PERFORMANCE FROM DAVID IN AN ALL STAR AUSTRALIAN ROUNDUP – Typical hack players from clubs around Australia would have been breathing a sigh of relief (and in with a chance of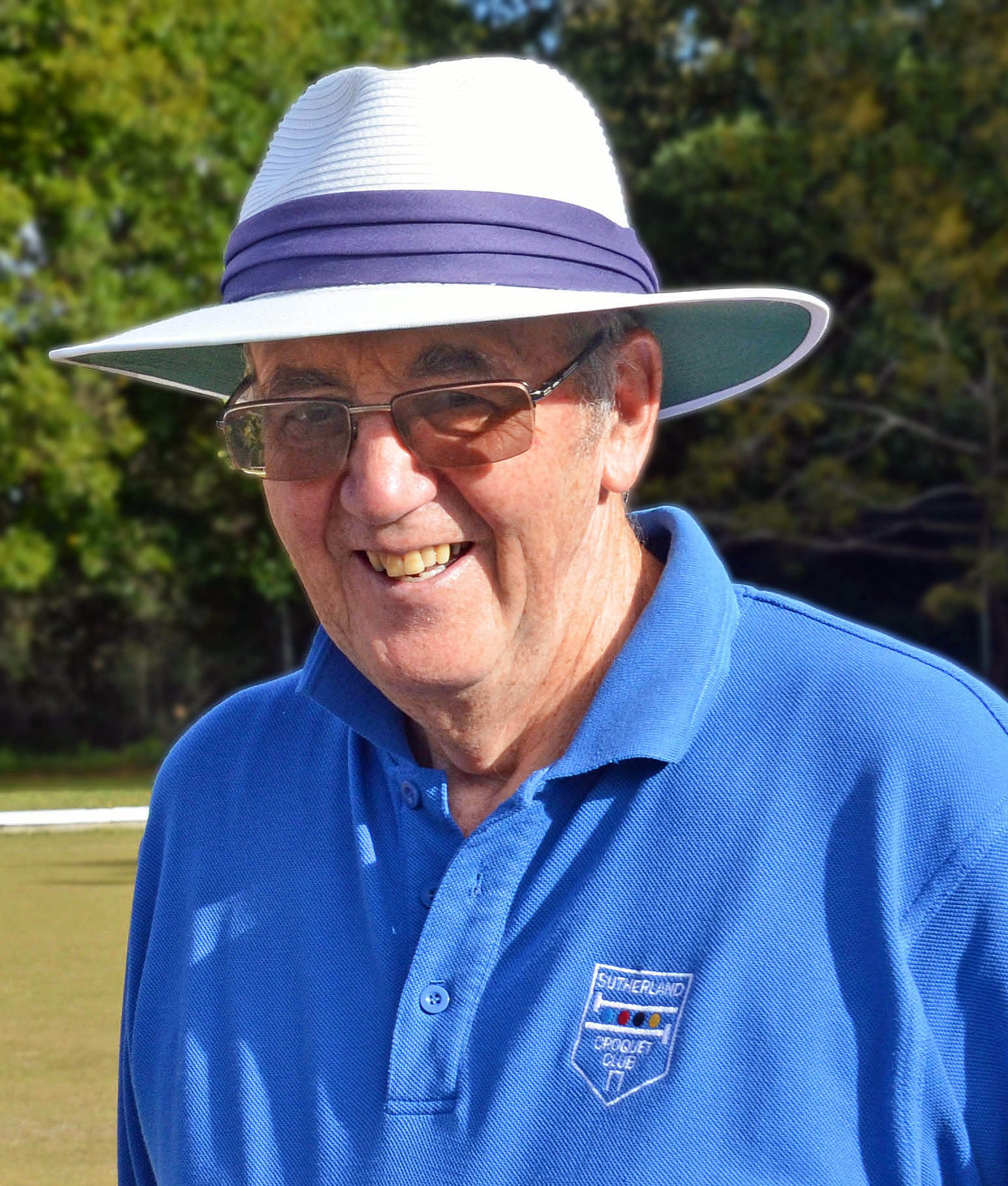 winning a local game) as around 50 of the country's top male players gathered in Brisbane this last weekend for the Australian Championships. The first days of Spring certainly sprung in the steps of David who put in a stellar performance in these 19 hoop games, convincingly topping his block of 11 players by winning all bar one of his matches. Whilst David didn't survive through the highly competitive knock out rounds he made the final of one of consolation events taking the match to three games…….. Well worth the trip David, great going..
AND SUTHERLAND'S STARS DON'T STOP THERE. Also in Brisbane for the Australian Men's and Women's Championships were Ron and Ros who virtually mirrored each other's performances in the plate. Ron reached the semi-final and Ros went one better taking the final to three games and fighting back from 6-3 down to ever so nearly winning the event. Ros now dons her NSW jacket and readies herself for the upcoming Interstate Shield to be played in coming days. Our thoughts will be with you both.
…………………………………………………………………………………………………………………………..
Hung Out to Dry – More Pegs than Wash Day – NO !!! Just Kidding – Just a Headline – no sour grapes in this vintage event. Played once upon a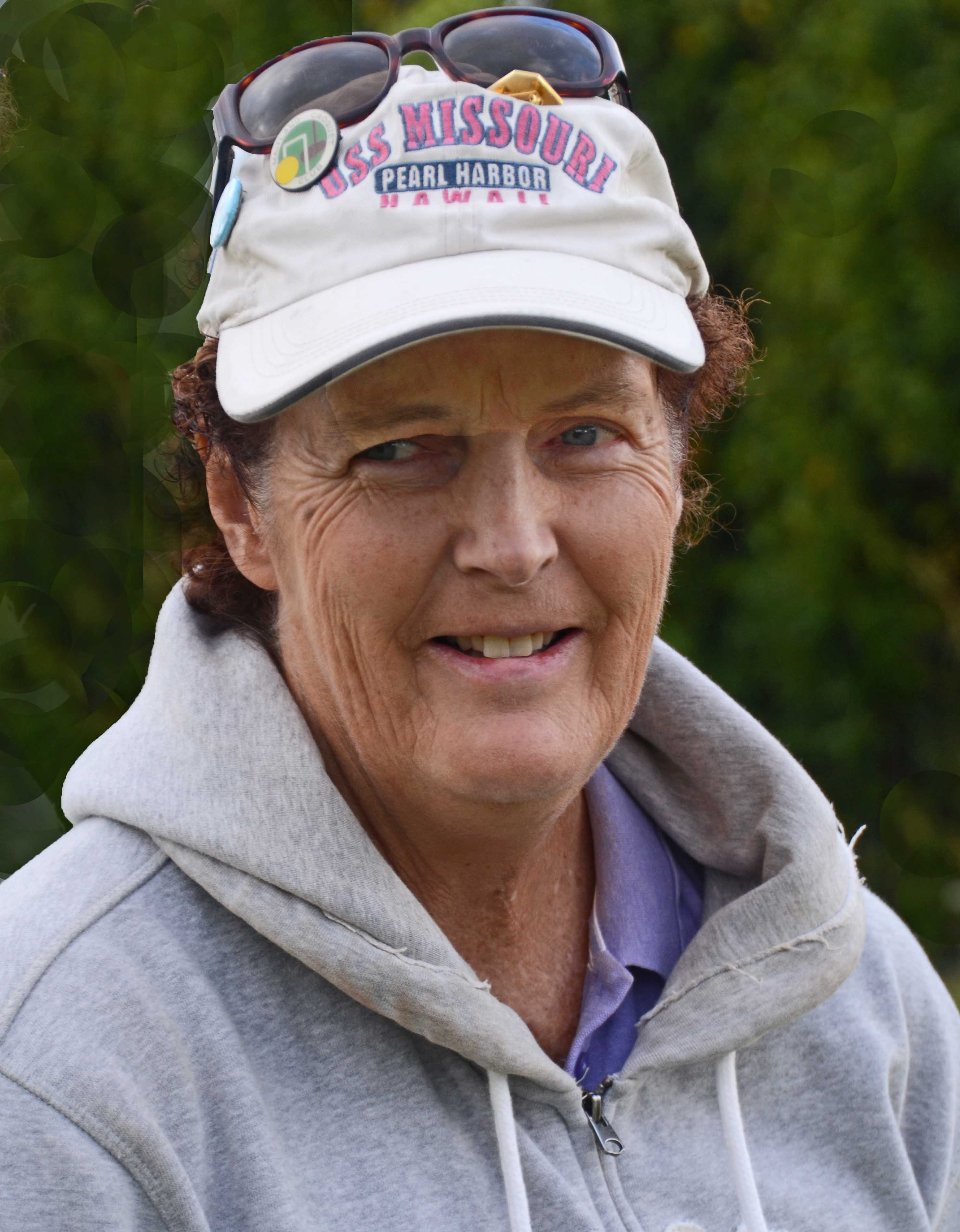 time as 'The Naggers'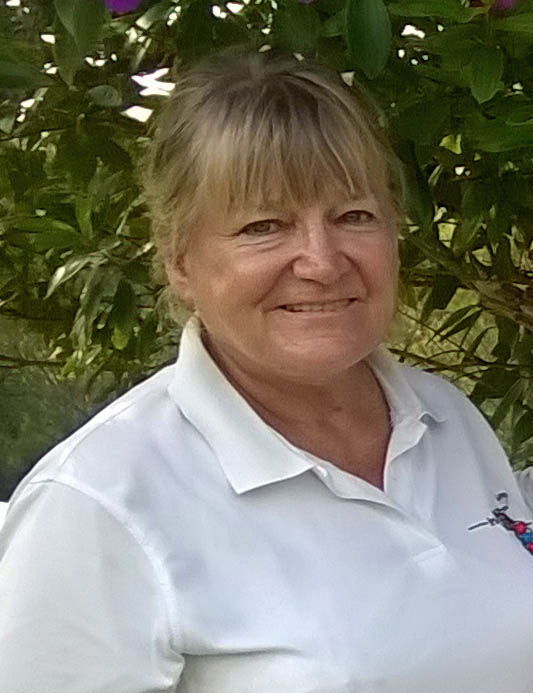 (obviously erroneously being between married couples) this  competition name changed a couple of years ago to be known as the Jaye Danna Memorial in remembrance of a fond late member. This year the competition welcomed a number of new contestants and with some advanced players away the gap between low and high handicaps seemed quite marked, although those laden with free turn pegs would have been strongly competitive without them. Stretched over three weekends which was bound to test the consistent health of our membership, the competition witnessed a couple of withdrawals.
In the final wash up, Sue and Vicki soundly won the event (5 matches + 6-7),  Aileen and Andrew, also on 5, snapped at their heels and Jill and Lesley. recent graduates from 'The Joust' threatened throughout. Well done guys, all good fun.

…………………………………………………………………………………………………………………………..
ALL SMILES AND HEARTFELT THANKS to two local community organisations for assistance in purchasing  a defibrillator ('Tradies') and to Julia ('Response for Life') for attending the club on consecutive weekends and instructing our members in the latest CPR techniques and the defibrillators use. Thanks also to Penny for liaising with Julia and for organising these informative sessions.
(Note: A separate web page 'CPR Information' has been created with links to Response for Life which importantly has videos reminding us of the defibrillators use)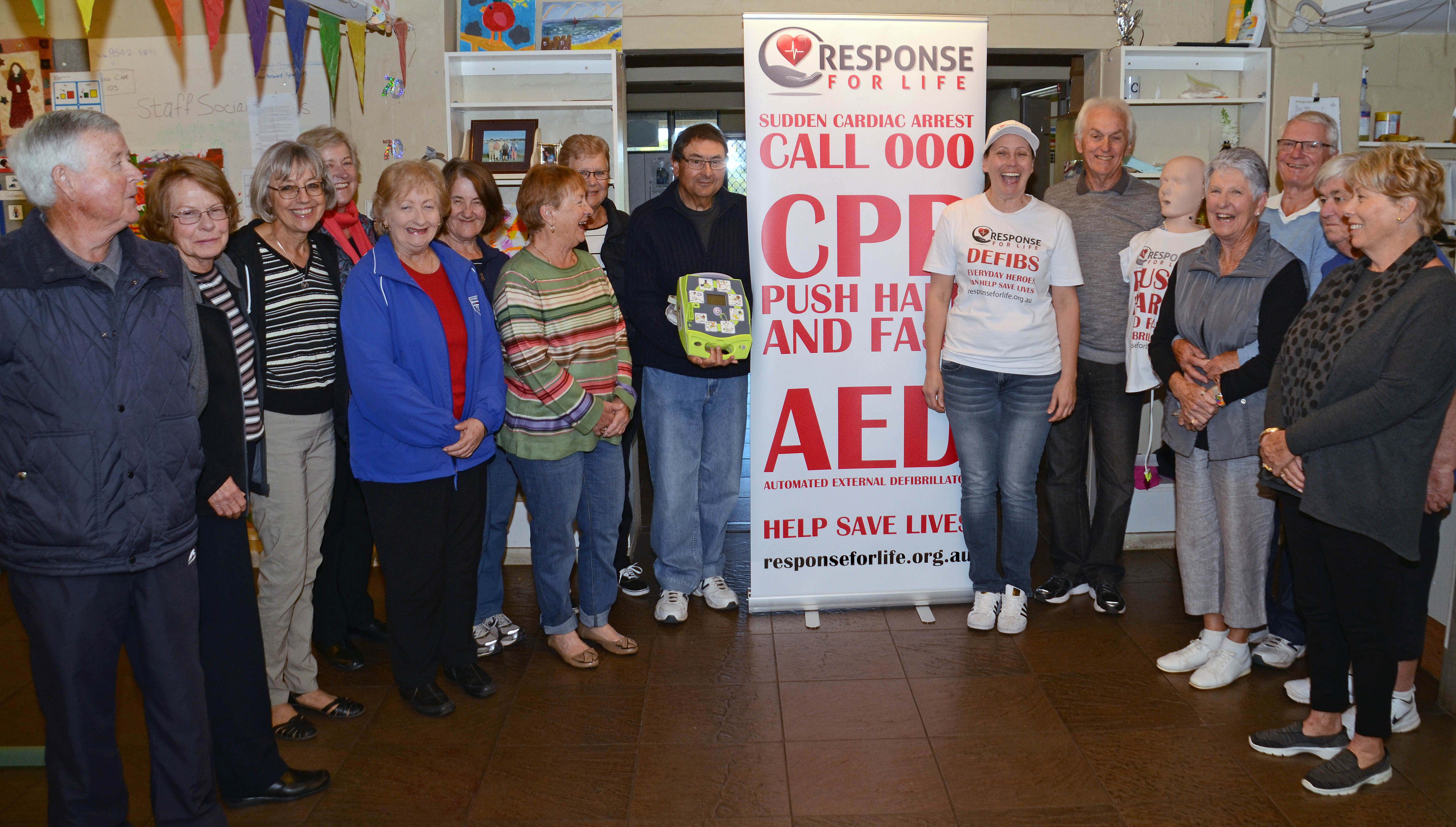 …………………………………………………………………………………………………………………………..
Sharp Shooter JB fires off eight faultless rounds to head the leader board in the Champion of Champion's competition. Meticulous and methodical with devastating on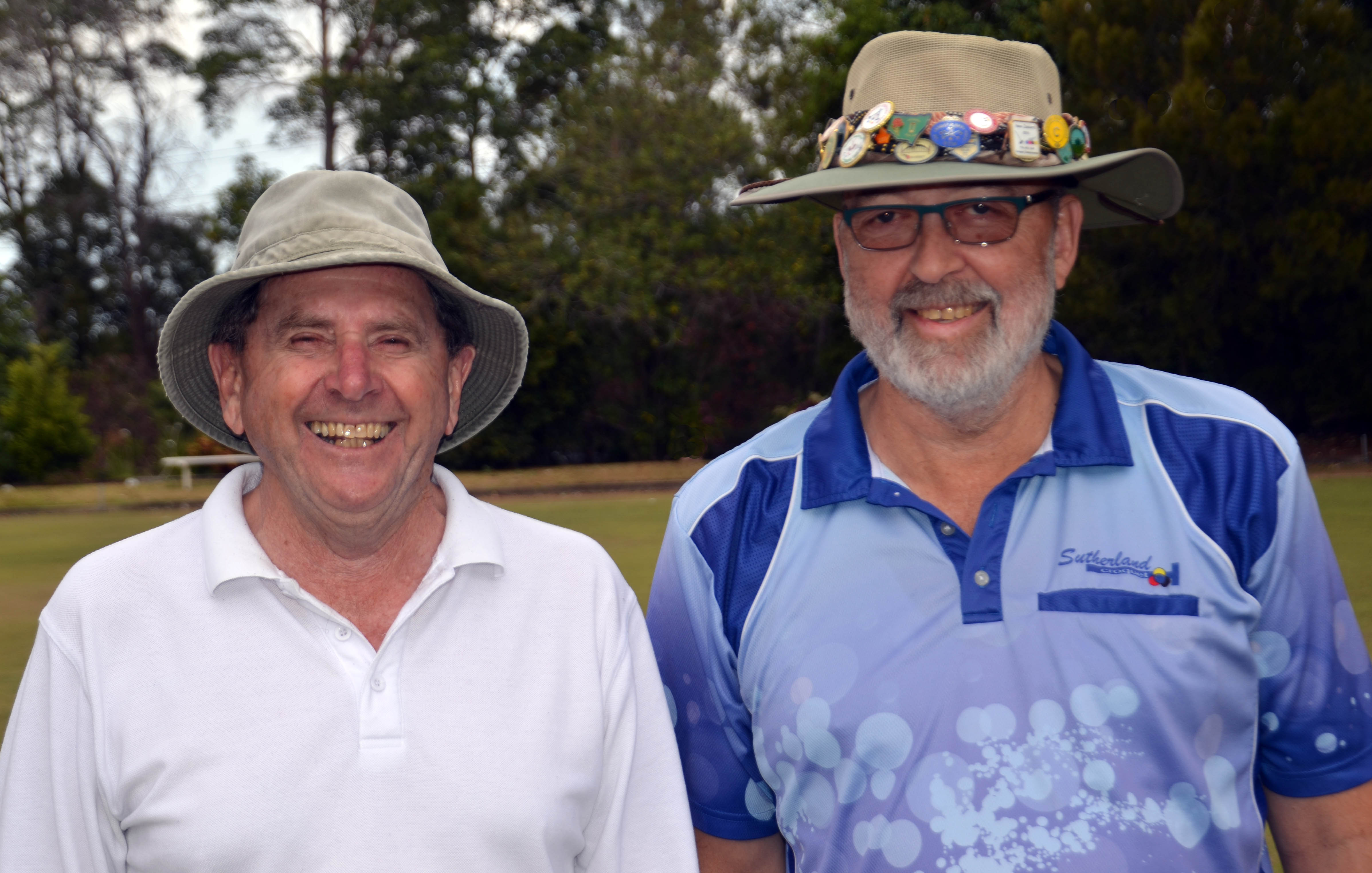 the spot accuracy and cool calculated strategy, John B picked his way through the field of nine contestants over the course of two Sundays and allowed himself a brief smile at the end of it. Not quite there yet though, as well tuned and tested Tony who is battle hardened from playing just about every competition available around the state came in a convincing second, earning himself a spot in a three round play-off to see whether he or JB represents the club at Tempe. As for the rest ('never say die') Dianne generally caused panic taking most of her division one opponents to the brink of defeat. Ron and JC both finished on 5 wins, John C enjoying a pleasant purple patch until copping a bruising from JB but still just surviving to hang on to a couple of extra points and third place……….Book a seat, we now wait on the date of the final showdown ( remember bet responsibly – monopoly money only )
WE HAVE A CHAMPION !!!!! Two actually as Tony and John B fought out an exciting final in front of a healthy crowd of spectators.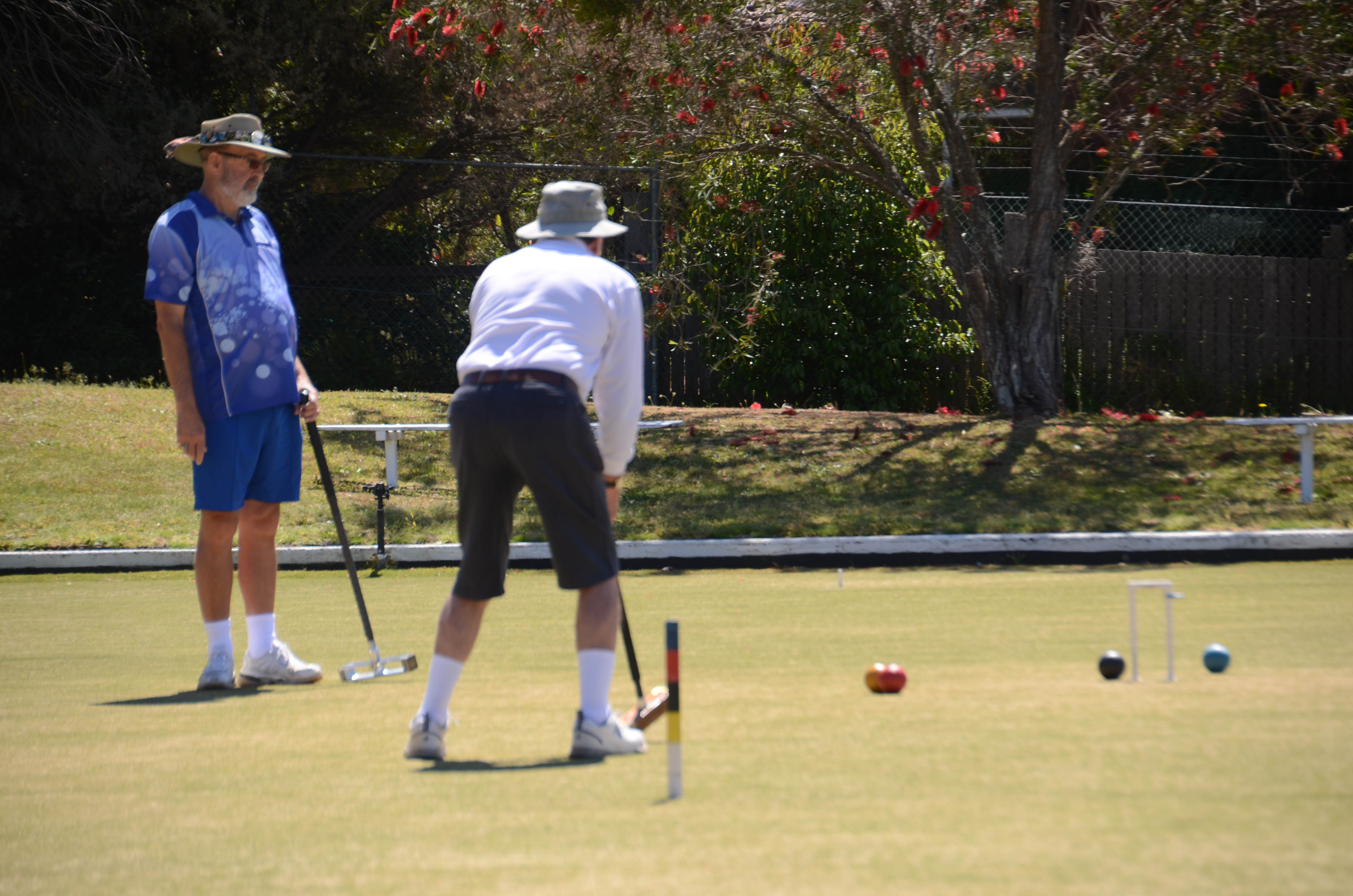 Knife edge stuff, Tony winning the first quite convincingly and initially ahead in the third. JB's steely determination however had not deserted him and he clawed back to clinch the title on the twelfth hoop of the final game. Congratulations John B, Club Champion. Well done the both of you, it was worth coming to watch.
…………………………………………………………………………………………………………………………..
Congratulations doubles partners Janett and Jill who came second in their block at the Manly Seabreeze. Should be pleased with their first competition together.
Snags on the horizon – bangers that is, twilight next Friday concluding with a sunset sausage sizzle.
…………………………………………………………………………………………………………………………..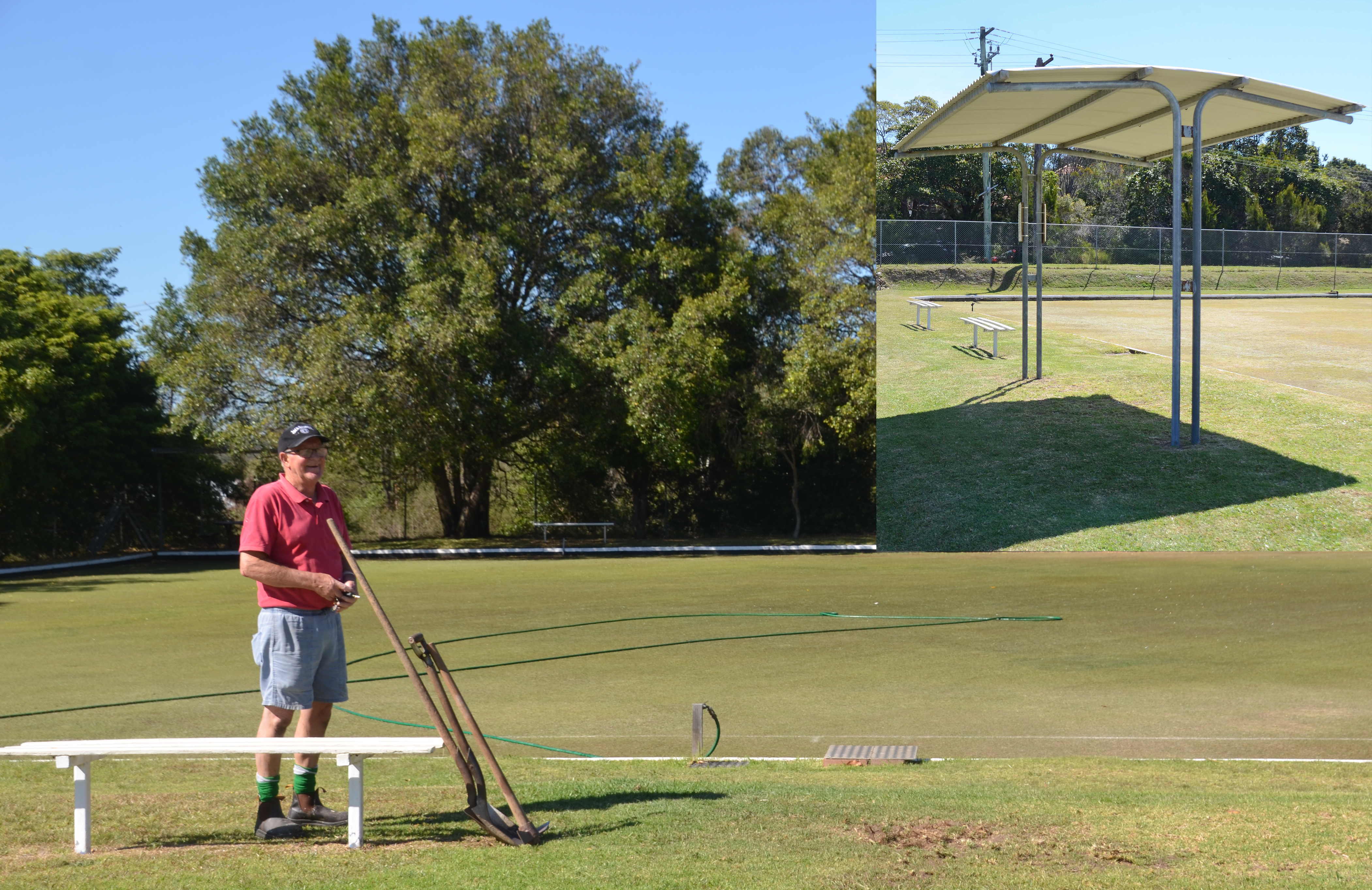 Disappearing Awning – There one minute gone the next. Visited Sutho' to get a pic of the boys dismantling the awning only to find it had been 'Snapped' already. J Snape that is, he and his mate Terry having made quick work of clearing the site in readiness for the new gabled carport from Sheds n Homes. Also busy at the club was Phil and his bevy of borrowed green-keepers from around the Shire congregating together to top dress our lawns. Nice work guys, gee this place is going to look good for the summer.
…………………………………………………………………………………………………………………………..
SPRING'S SPRUNG AND BUDDING PLAYERS SHOOT AROUND THE STATE. Maitland (Tony)  Manly (Janett and Jill) Nowra (Tony and Dianne) Jamberoo (Dianne again, Janett again). Meanwhile the 'Makara', which is dominated by Sutherland players has begun with Wal, who has just celebrated another birthday in his nineties, taking out the runners up prize in the ricochet doubles partnered with Andrew. Tony (' I've been everywhere man') is currently in Deniliquin with David playing in the Australian GC Championships having just left the Mosman Prize a little richer. The Mosman Club attracted by far the largest contingent of Sutherland players, nine including Lynda and Lorraine who also belong to Port Hacking, these numbers reflecting the popularity of a fantastic venue and well run event. In 2016 the Sutherland/Port Hacking contingent took out the top three places, this year it was second (Ron) and third (Tony). Well done guys, guess we'll be angling to going back again next year.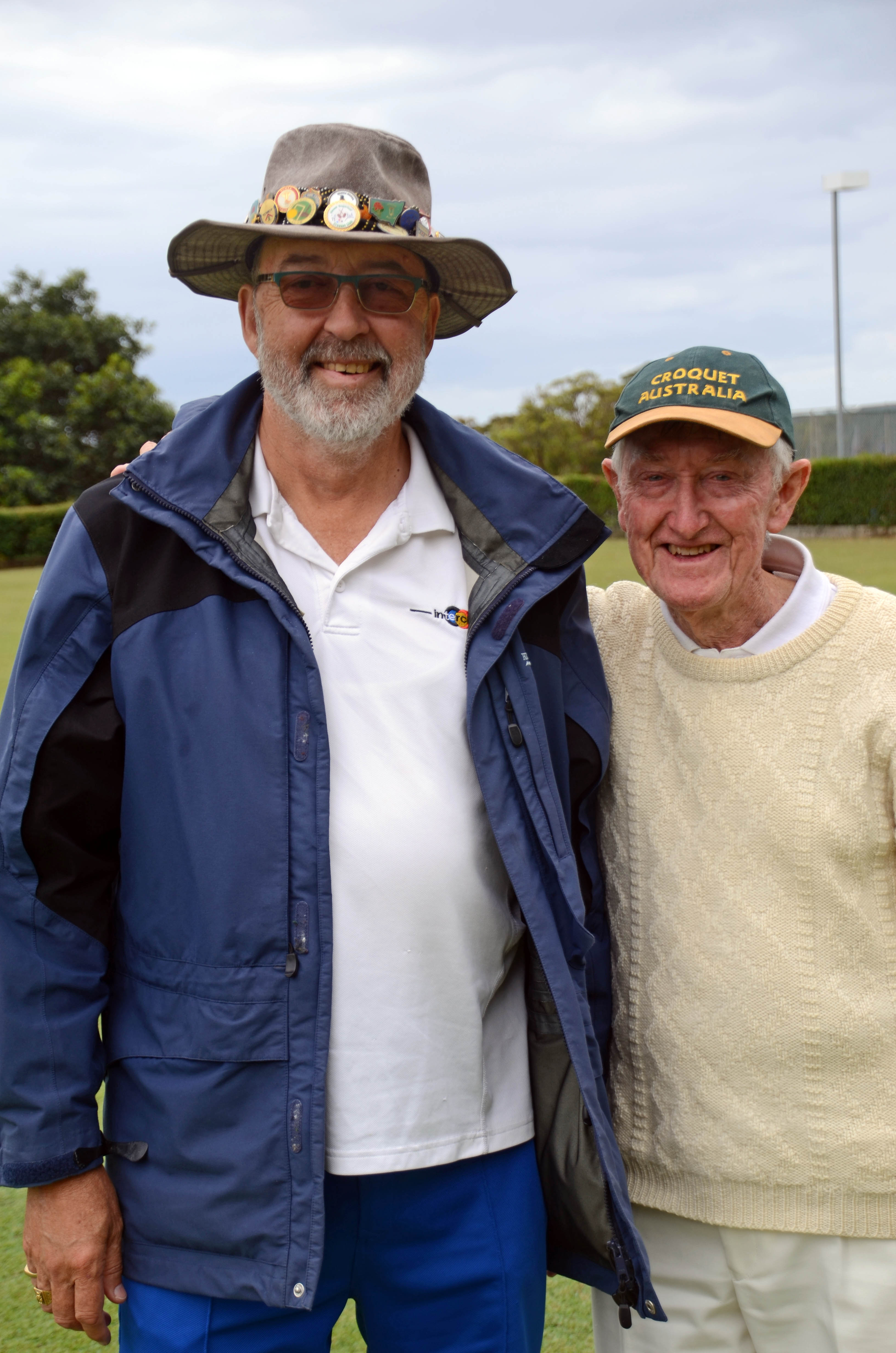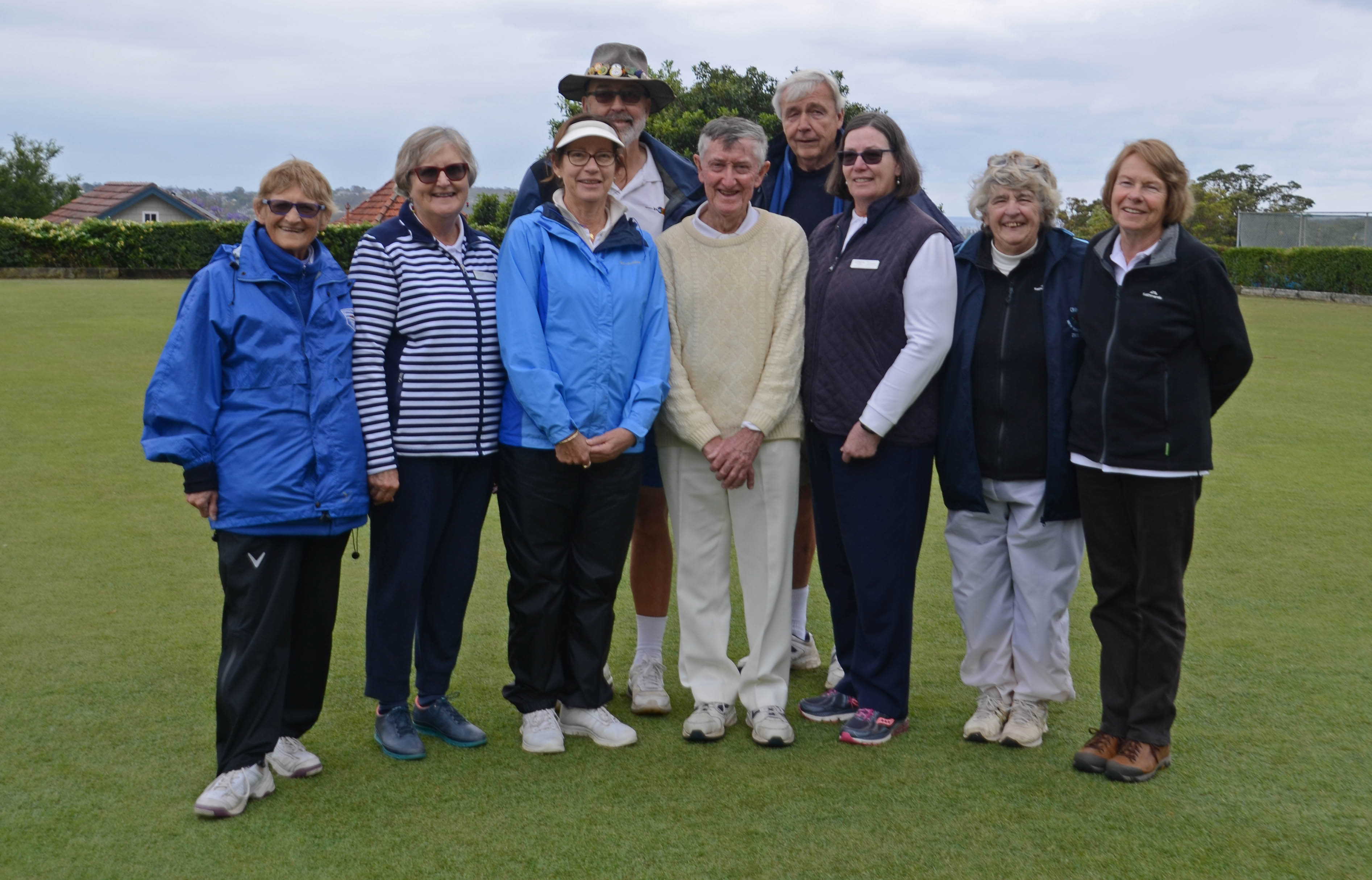 …………………………………………………………………………………………………………………………..
MAKARA GC SINGLES FINALS AND AN ALL SUTHO' AFFAIR – With a field well represented with  Sutherland players Sutho was in with a good chance at this match played at Coogee. Some real stalwarts in the battle, Ron and Ros, Dianne, Penny, Sue and the irrepressible Wal turning up for his third Makara event. But also a comparative new face, Jill, who is showing an enthusiasm for competition early in her croquet career. After two days it was Jill who topped red block and Dianne black block taking with them runners up Wal and Ros into the finals. With this finale done and dusted what better ending than to have Wal present the 'Fernance Trophy' to Dianne, an award donated by the Fernances so many years ago.   (Sound familiar, yes a repeat performance from 2015)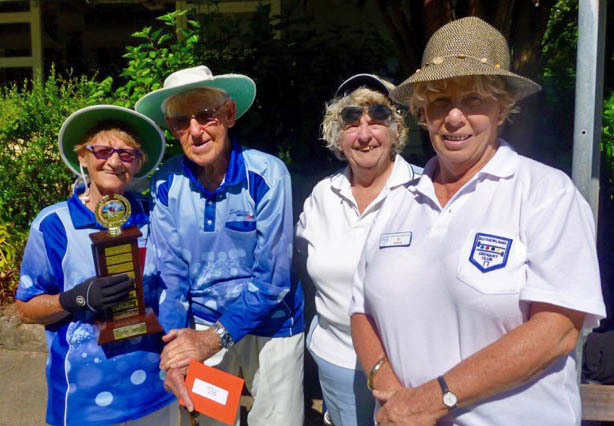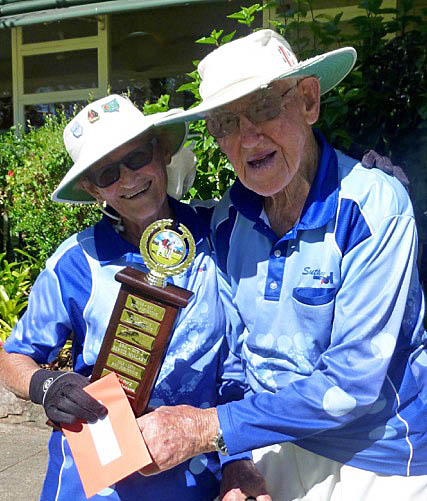 …………………………………………………………………………………………………………………………..
STARS OF THE SOUTH MAKETH MAKARA – AGAIN !!!  Named after an indigenous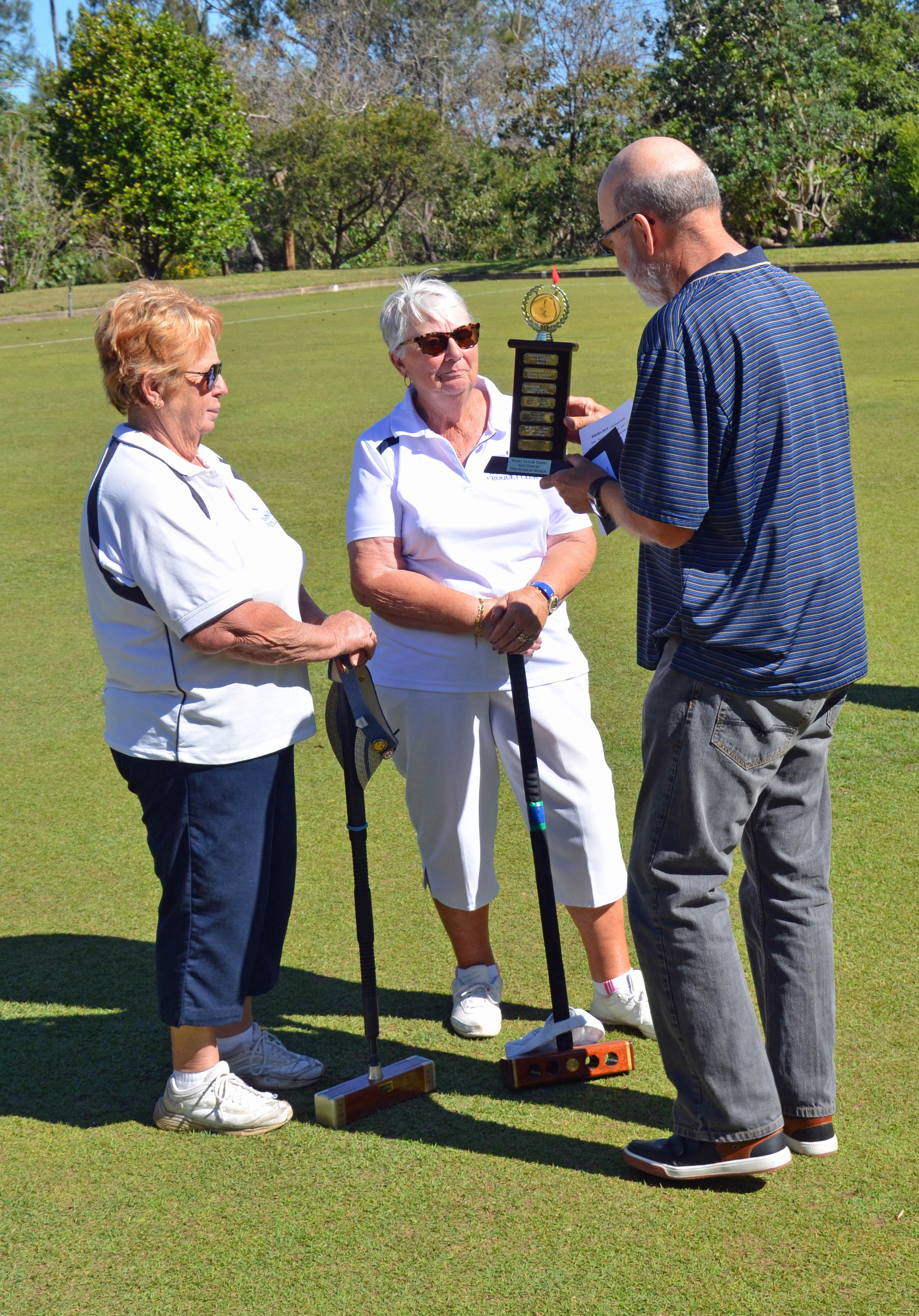 dreamtime story involving a constellation of stars, 'The Makara' (of which the GC Doubles is the principal event) were played at Sutherland last weekend. The sixteen pairs from six clubs, Holroyd, Coogee, Jamberoo, Port Hacking, Wollongong and Sutherland turned out to compete for the Harry Taylor Trophy. Lenora Everton from Wollongong is one name engraved on the trophy already having won it with Bill Muller in 2015 and in 2016 they were runners up. This year Bill was unfortunately sidelined but Lenora arrived with an able deputy Maureen Waters and together they battled their way to the final bell narrowly beating Sutherland's pair Janett Midgely and Jill Sullivan 7-5 convincing winners of their block. The finals were watched by a significant crowd including the Makara organisers, David, John E, Sue, Lorraine and Lynda who can be justly proud of their achievements in staging another successful event.                                                              

…………………………………………………………………………………………………………………………..
GARETH JUMPS INTO FRONT PAGE NEWS Gareth was tipped off a couple of months ago that his leap of joy at achieving the first of two triple peels, whilst competing in the AC National Seniors competition in the UK had been captured on camera. In recent days Gareth has been skyward with surprise again realising that he has landed on the front page of the September edition of the Croquet Gazette. (Great shot)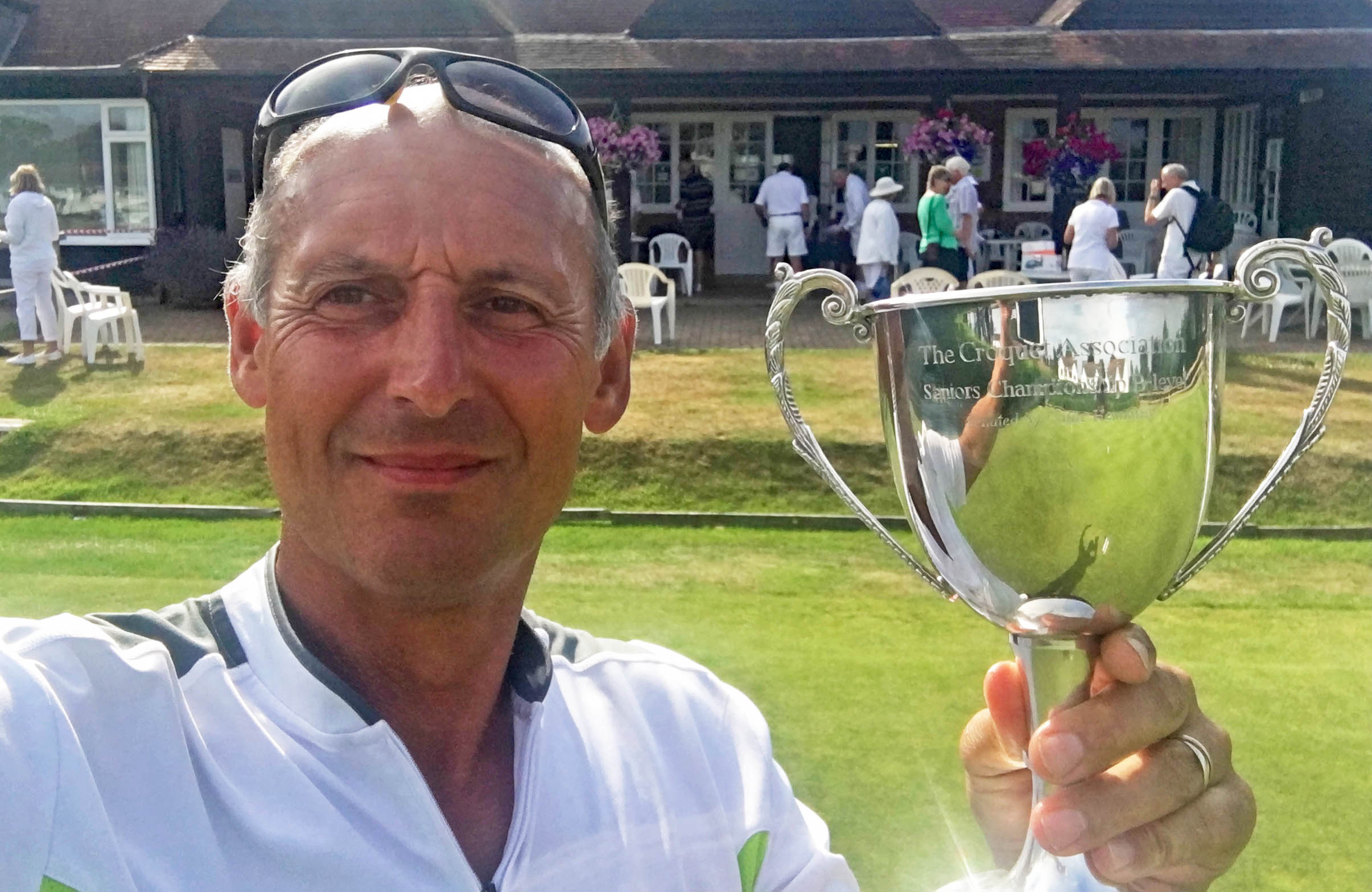 …………………………………………………………………………………………………………………………..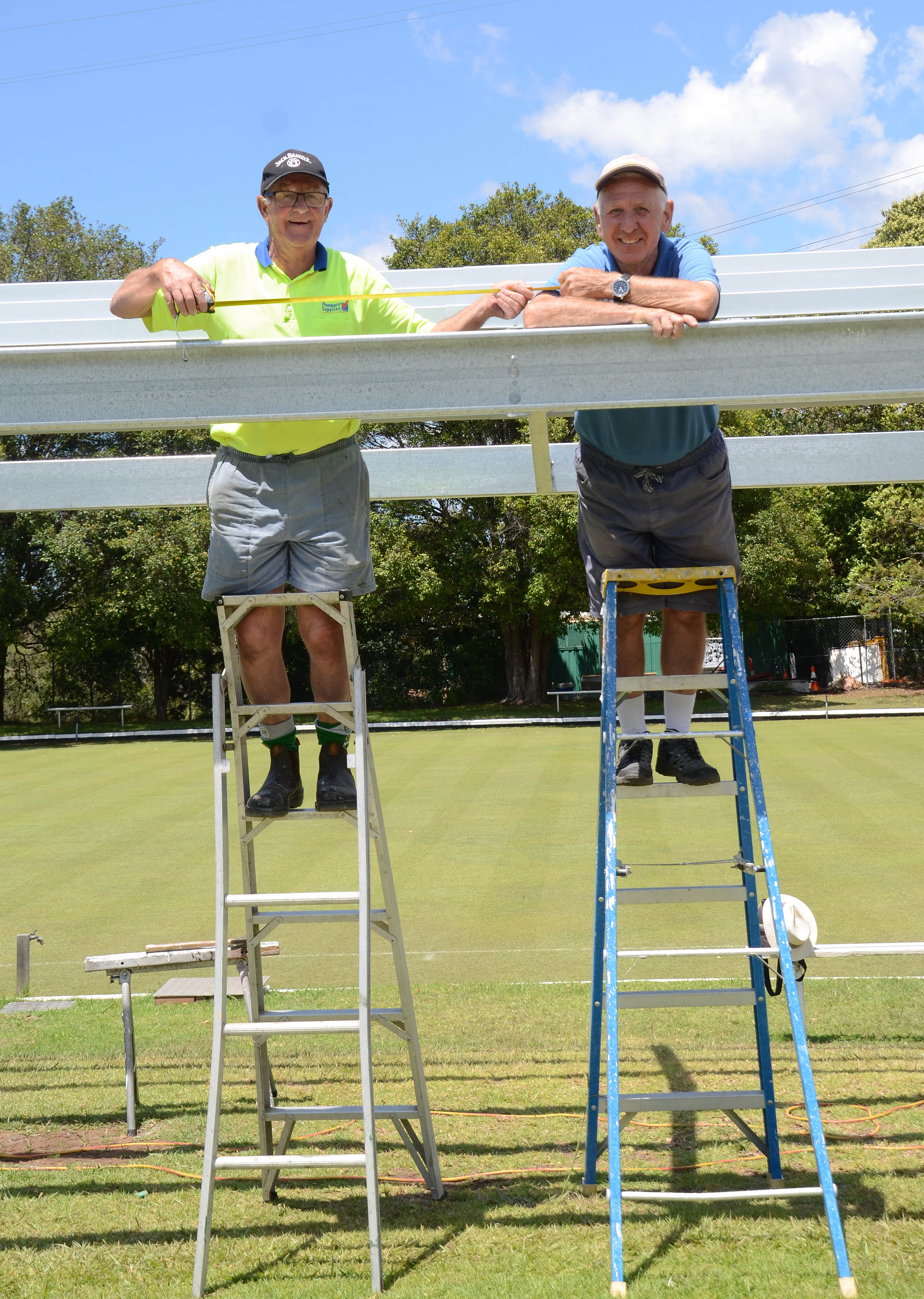 WALKER CONSTRUCTIONS MAKES GIANT STRIDES WITH THE NEW AWNING – An obvious choice of foreman Terry, greatly assisted by his leading hand John S, have launched themselves this week into erecting the new awning, which has been partially sponsored by the Office of Sport and Sheds n Homes. Sturdy, strong and good looking the construction, already drawing favourable comments from members, will be a monument to their hard work. (We can't thank you enough guys)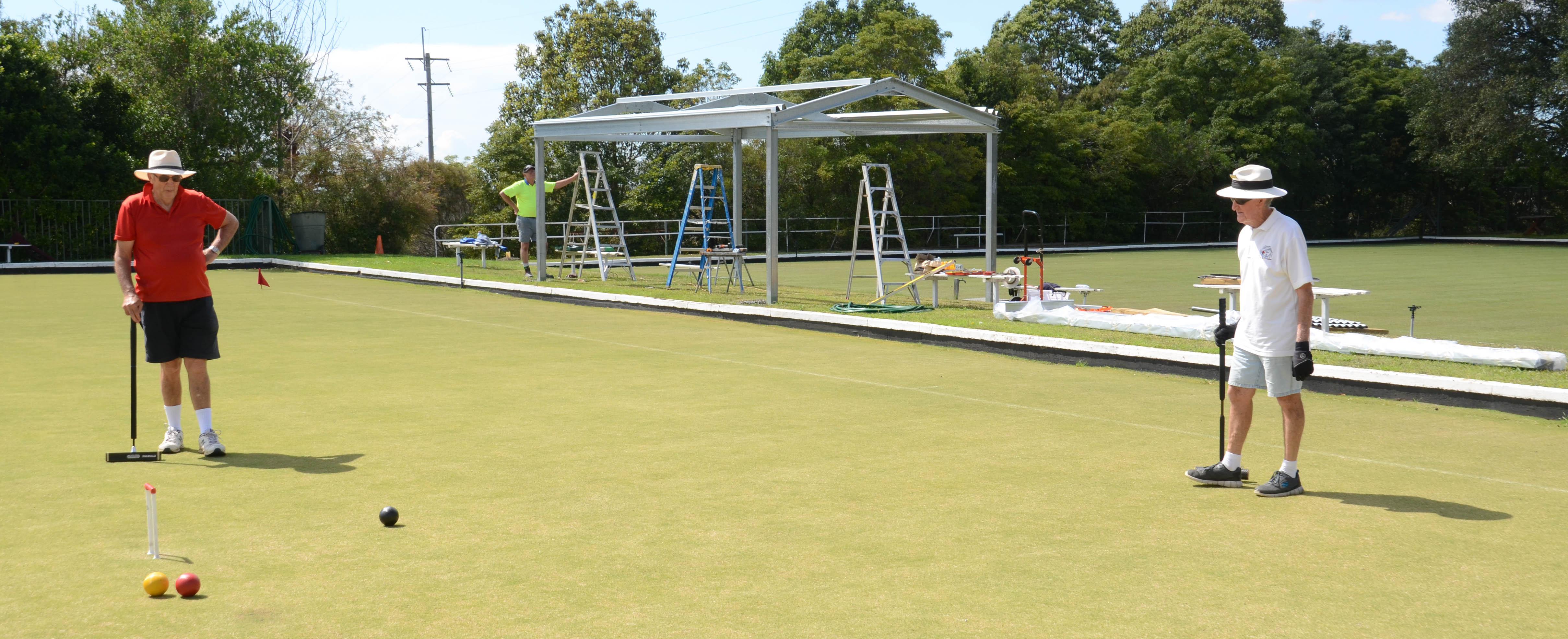 …………………………………………………………………………………………………………………………..
PRESIDENT REMAINS WITH A FIRM GRIP ON HIS PERPETUAL TROPHY –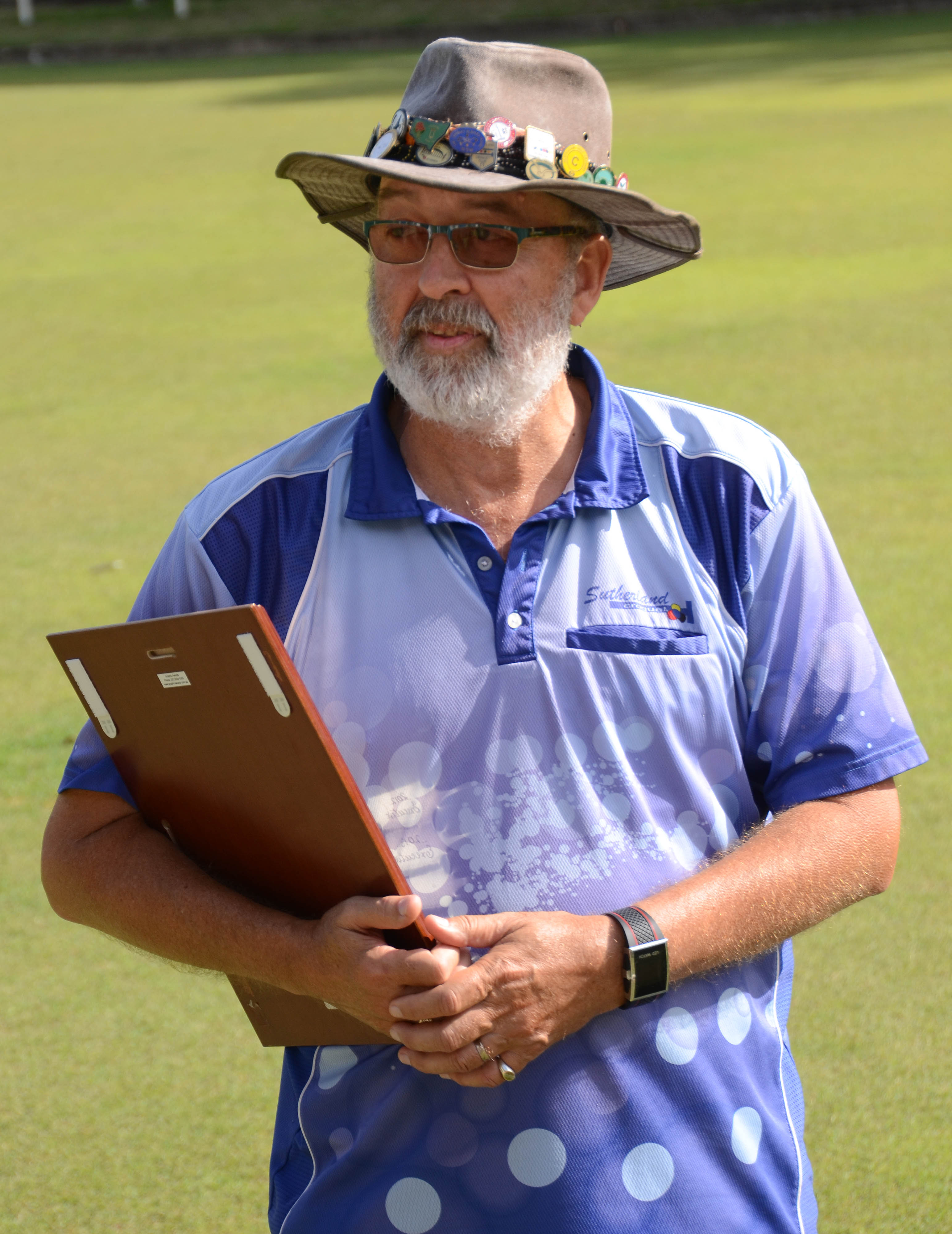 Reputed not to have changed hands for years, maybe never (?) the outcome of the President's Shield was much the same again for 2017 although the script was markedly different. Previously devised as members against 'the executive' this year twenty players were thrown into a mix and match affair of two blocks playing five rounds. In the end everyone somehow was a winner, many having played for both 'the executive' and the members. And the president was enormously happy, finding that the fairer more egalitarian means of playing the comp' still came up with the same result.                                                                                                           

…………………………………………………………………………………………………………………………..
 HEY GOOD LOOKING – such is the product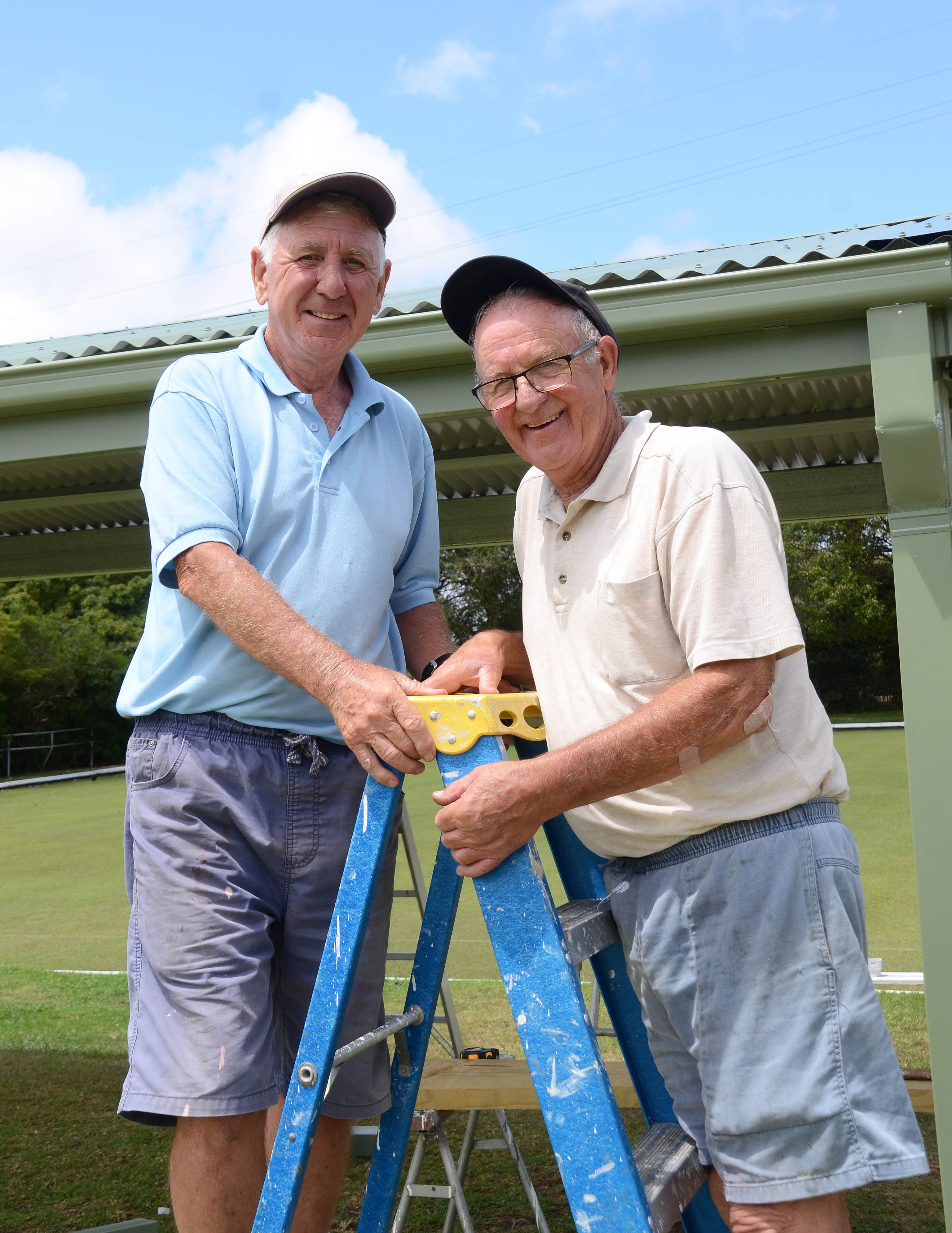 of these boys hard labour having toiled in the sun for around eight days, to provide shade and shelter for our members. Terry and John S have done a fantastic job in adding this functional and attractive structure to our amenities. They have received some valuable assistance but there is little denying they have done the bulk of the work. Thanks guys and thanks again to Sheds n Homes and the Office of Sport for their help in making it affordable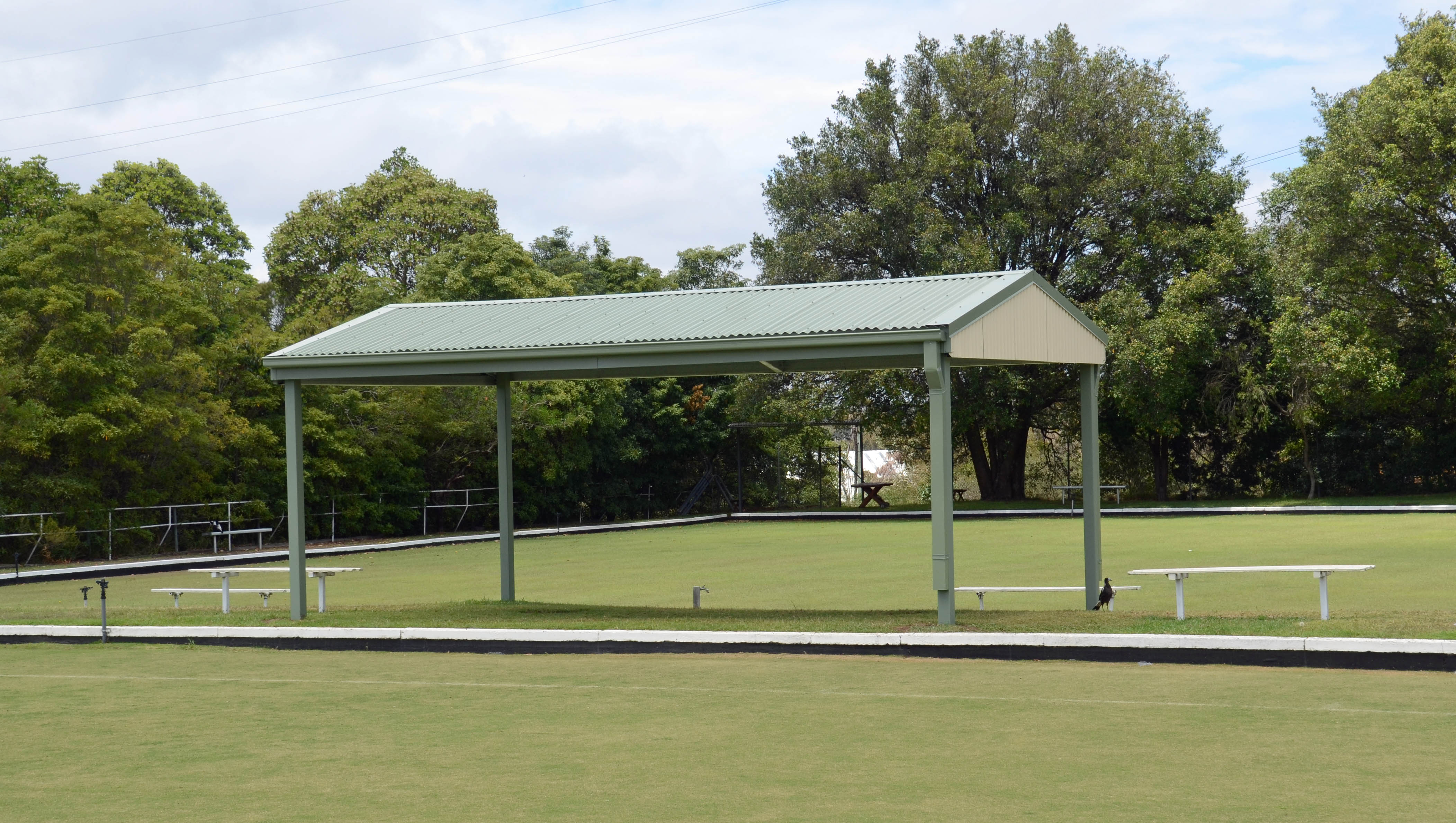 SANTA'S LITTLE HELPERS create another enjoyable Christmas occasion. Regardless of how naughty or nice (or nice and naughty) members might have managed to be during 2017 Tony and Jen turned on another enjoyable Christmas party last Sunday, handing out gifts for all, some to deserved winners of annual competitions, others from sheer generosity of spirit. Thank you. (See Members Photos page for other pics)